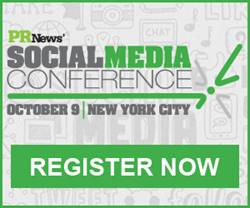 New York, NY (PRWEB) September 19, 2014
PR News' Social Media Conference will be held October 9 at the Grand Hyatt in New York City. This tactics-focused day will center around communicating in a mobile and social world, winning the attention of a larger audience on Facebook, social media listening strategy and technology, creating integrated social media strategies, social media measurement and so much more.
To register, visit http://www.socialmediaconfny.com/. Early Bird rates end on Sept. 25.
At PR News' Social Media Conference you will receive instruction from experienced social media communicators and take away practical knowledge that you can put to work right away as soon as you return to the office. You will be immersed in the strategies and tactics that have proven successful for brands, and you will gain insight on the latest trends and tools that are driving social media today. To view the agenda for the conference, visit http://www.socialmediaconfny.com/conference-agenda/.
In addition to an executive summary written by PR News' editorial staff, conference attendees will also receive the following bonus tip sheets and checklists:

How to Choose Between a Mobile Site, an App and a Responsive Design Website
Five Tips for Creating Content That Inspires
Guide to Going into Rapid Response Mode on Social Media
Get the Most from Your Brand's Message via Instagram
10 Things to Consider About Emerging Social Media Tools
For more information, visit http://www.socialmediaconfny.com/.
Presented by the industry's most trusted source on PR and marketing - PR News -- the Social Media Conference will address the most critical digital issues and new opportunities facing communications professionals. Panel topics include social media, crisis communications, social media policy, measurement, online communities and what to expect in 2015. Each attendee will also receive 8 points toward a PR News Certificate in Social Media.
The PR News Social Media Conference is designed for all communications professionals looking to effectively leverage the latest digital communications technologies, applications and resources available online to improve their organization's reputation, mind share and bottom line. Attendees will leave this one-day summit equipped with a smarter, more cost-effective PR plan that harnesses the power of online.
Sign up now at http://www.socialmediaconfny.com/. The early bird rate ends September 25, 2014.
The PR News SEO Workshop will be held the day after the conference, on October 10 also at the Grand Hyatt New York. Special two-day packages are available. View the agenda for the SEO Workshop here: http://www.socialmediaconfny.com/seo-workshop-agenda/.
To sponsor the conference or workshop, please contact PR News' Senior Vice President & Group Publisher, Diane Schwartz at dschwartz(at)accessintel.com.
About PR News:
PR News is a daily intellectual hub that serves the communications and marketing community at corporations, agencies and nonprofits. The PR News Group focuses on honing and growing PR practitioners' skills in social media, crisis management, digital PR, measurement, employee relations, media training, CSR and writing through its flagship newsletter, webinars, conferences, awards programs, workshops and guidebooks. With the launch of its weekly newsletter over 70 years ago, PR News has remained dedicated to supporting the growth of communicators all while keeping them abreast of the latest news affecting the industry. For more information, please visit http://www.prnewsonline.com.