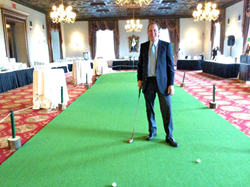 Armonk/Elmsford, NY (PRWEB) September 19, 2014
The First Tee Metropolitan New York recently held its 5th Annual 19th Hole on the Park fundraiser at the New York Athletic Club in Manhattan to benefit TFTMNY's Path to College Program. At the center of this event was a 50-foot putting green where guests could share in a friendly contest as the night went on. Michael Lehrer, President and CEO of Home Green Advantage, supplied this green for the event.
Armonk, NY based Home Green Advantage has been providing the putting green for the past several years, allowing partygoers to challenge one another and themselves to see who can make the hole-in-one. Aside from this contribution, Lehrer has personally donated approximately $10,000 to the Metropolitan Golf Association Foundation since 2008. The MGA Foundation works toward the future of golf by bestowing tradition amongst young, underprivileged and physically disabled golfers. Executive Director at MGA, Jay Mottola, has shared many great professional experiences with Lehrer.
"I've worked with Michael on various projects including a putting green for the Maria Fareri Children's Hospital at the Westchester Medical Center, a putting and chipping green at our MGA Headquarters Golf Central in Elmsford, a putting green and tee-line project at our First Tee facility at the Fairchild Wheeler Golf Course in Bridgeport, CT, and on a significant tee and putting green renovation project at our First Tee facility at Weequahic Park in Newark, New Jersey," Mottola said. "In each of these cases, Michael exceeded expectations, while at the same time donating part of his services for 'the good of the game.'"
The MGA foundation continues to lead efforts to make golf accessible for young people of all ages with their junior competitions, educational programs, caddie academies, and the many other programs and events they offer and regularly hold. As a golf enthusiast and longtime supporter of the foundation, Lehrer understands the significance of these events.
"I am a firm believer in giving back to the community and helping out the game of golf," Lehrer said. "First Tee does a wonderful job with the kids and I am happy to help them achieve their goals."
"Each year at our 19th Hole on the Park fundraiser, Michael donates his time and efforts to set up a 50-foot putting green in the center of the ball room. It is the highlight of the evening and our guests absolutely love trying to make that long putt," said Kate Keller, Director of Member Services, Public Relations, and Special Events and Young Benefactors Co-Founder. "Since day one, Michael has been a great supporter of the Young Benefactors and of The First Tee of Metropolitan New York."
For more info on the The First Tee program or the Metropolitan Golf Association visit http://www.mgagolf.org or call (914) 347-4653
About The First Tee Metropolitan New York
The First Tee of Metropolitan New York was founded in 2001 through a partnership of the Rudin family, Metropolitan Golf Association and Met Section PGA at Mosholu Golf Course in the Bronx. Since that time, this program that teaches positive values and life skills to youth through the game of golf has grown to include five additional facilities and over a dozen affiliate locations. More than 5,000 youth annually take part in programs at these sites each year, with more than 50,000 additional students served through outreach and community partnerships. Through our Campaign for the Next 10 for raise $5 million for our Met NY Chapter will be able to build on this success and accomplish several critical goals.
About Home Green Advantage:
Home Green Advantage Inc. is a golf green putting installation company specializing in the installation of residential, commercial, and promotional golf greens in the tri-state area. Based on Armonk, NY and founded by President and CEO Michael Lehrer in 1995, Home Green Advantage has experienced consistent growth since its inception, now having worked on hundreds of projects on both a small and large scale. Their clientele includes some of the most notable CEO's, celebrities and Fortune 100 companies in the business. Lehrer's personal expertise and obsession with detail and design, along with his dedication to personally overseeing all projects to ensure quality has led to many personal referrals over the past decade. In addition to putting greens, Home Green Advantage offers HGA Pet, a synthetic grass that can be installed in any outdoor area. For more information about Home Green Advantage or for a free consultation, visit their website at http://www.homegreenadvantage.com.