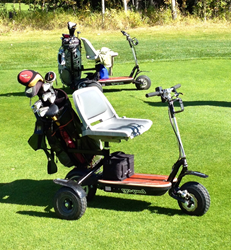 This product represents a necessary change in the way golf will be played. - Alex Husain, President of GoCaddy International Ltd.
Calgary, AB (PRWEB) September 18, 2014
GoCaddy International Ltd. has partnered with The Go-Ped Group of Companies to begin offering their new single-rider golf cart to an industry that has seen a significant decline in recent years. Invented in Canada and made in the U.S.A., they predict that this North American initiative will significantly increase golf participation globally.
A National Golf Foundation report released earlier this year reported that an additional 157.5 U.S. golf courses closed in 2013, three more than the previous year. The same report indicated that only 14 new 18-hole courses opened in 2013. Across the industry, there are ongoing concerns regarding plummeting equipment sales and declining numbers of newcomers to the sport.
Designed around a lithium ion scooter, the product branded "The GoCaddy", quickly transforms to a four-wheel riding golf cart with easy mid-play conversion to a power-assisted pull cart. Weighing in at a mere 60 lbs. total assembled weight, The GoCaddy represents a solution to slow play while minimizing turf damage typically caused by heavier, two-person carts. According to industry studies, affording unrestricted fairway access to golfers can improve the pace of play by twenty-five to thirty percent. For the average course, this would equate to playing a round of golf in just over three hours.
"This product represents a necessary change in the way golf will be played," says Alex Husain, President of GoCaddy International. "In this instant-gratification society, there is little interest from both new and seasoned players to be on a course for five hours. The decline in participation across the largest golf market is proof of that. The game needs to be enjoyable again and The GoCaddy is such a pleasure to ride that we anticipate a major revival of the sport over the next few years."
Although single-rider golf carts have been around in various forms for many years, their presence on courses has been muted. "Traditionally, those single-rider units were designed specifically for a golfer with limited mobility," says Husain. "And recently there have been a few platform-style single-rider units on which you stand to ride." Safety and liability exposures remain major issues for golf courses. He stated further, "The GoCaddy uses a wide four-point stance to offer balance and, most importantly, you have the option to sit in a comfortable seat while riding."
Sold exclusively on-line through their website http://www.mygocaddy.com, this new single-rider design should appeal to a diverse demographic. More courses are implementing "cart path only" or "90 degree" rules to minimize impact on fairway grass. Older golfers looking to maintain the same pace they previously did will find it more difficult to do so under those restrictions. New golfers are also often deterred by the pressure of "keeping pace" while learning the essentials of the sport. "Regardless of their ability, everyone is going to enjoy cruising down the fairways without the pressure to be perfect every time," says Husain.
GoCaddy insists that their product maintains the camaraderie of the game by simulating the open mobility of a "walking" foursome. "A GoCaddy mobile foursome means that it's not necessarily the same members of the group that have to stick together to advance on a particular fairway." suggests Husain.
GoCaddy International Ltd. is currently accepting telephone and web orders with an expected initial delivery time of 12-16 weeks. Full production will commence early next year with a focus on fleet programs for golf courses. The product is currently being promoted to the National Golf Course Owners Association with plans to showcase it at the 2015 PGA Merchandise and Golf Industry Shows.
Interested individuals and courses looking for more details can visit http://www.mygocaddy.com where a spec sheet and Frequently Asked Questions page are available. They may also contact Alex Husain, President of GoCaddy International Ltd., directly at 1-855-886-8511 or 403-474-7112 for more information.