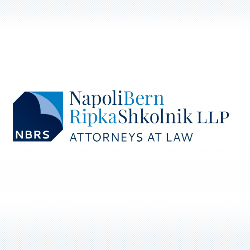 (PRWEB) September 17, 2014
Each year in the United States, plaintiffs' lawyers are responsible for securing justice and billions of dollars in recoveries for the wronged and injured. In many cases, they also help reshape and reform public and corporate policies. In recognition of the important work these lawyers do, The National Law Journal and Law.com joined together to select a premier group of law firms that exhibit the most creative and substantial work on the plaintiffs' side. This year – the inaugural year for the list of America's Elite Trial Lawyers – both legal organizations selected Napoli Bern Ripka Shkolnik, LLP for inclusion.
Napoli Bern Ripka Shkolnik, LLP – a nationwide plaintiff's litigation firm headquartered in New York – was one of 50 firms named to the List. According to The National Law Journal and Law.com, firms chosen to the list were put through a rigorous selection process consisting of nominations, extensive performance reporting, and detailed evaluations. A variety of factors were considered when selecting firms.
To qualify for the list, firms were required to have secured at least one significant case victory on the plaintiffs' side between January 2013 and June 2014 and were required to have an impressive record of verdicts or major settlements within the past three to five years. All firms named to the final list were also required to devote at least half of their litigation resources to plaintiffs work.
NBRS was selected to the list as a result of its continued success in securing big victories in complex cases and for having a wide impact on the law and legal business. Throughout the years, the firm's legal team has seen success in a number of plaintiffs' practice areas, including personal injury, mass torts, and investment fraud. To date, the firm has successfully recovered over $4 billion on behalf of clients. More information about Napoli Bern Ripka Shkolnik, LLP can be found at: http://www.napolibern.com.
Napoli Bern Ripka Shkolnik, LLP is a nationally recognized firm that handles a number of high profile plaintiffs' cases across the country. Since 2000, the firm has recovered more than $4 billion in settlements and verdicts. The firm's legal team is equipped with over 150 years of combined experience and is committed to securing positive outcomes on behalf of clients.