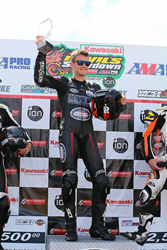 It's been such an up-and-down season for the KWR crew this year, and I'm just glad to have finished off the season on a high note.
Plymouth,WI (PRWEB) September 17, 2014
Kyle Wyman finished the 2014 AMA Pro Road Racing Season the best way possible this past weekend by riding to victory for the Vance & Hines Harley-Davidson series despite enduring a crash on Saturday.
Saturday's rain may have contributed to Wyman crashing his Millennium Technologies sponsored Yamaha R6 motorcycle. "I was feeling somewhat comfortable in the rain race, tried to push to the front but unfortunately pushed too hard. I was heartbroken knowing I had crashed my Millennium Technologies Yamaha R6 for the first time this season." Wyman said.
Kyle Wyman scored 10th place after his crash, but was awarded no championship points due to AMA Pro's rules that require that riders finish at least half of the their race distance to be eligible for points regardless of final position.
"I was pretty bummed that we didn't score points, even though we out-lasted most of the field." Wyman commented on the event after receiving no points. "It was a crazy race, and the first time I had ridden here at NJMP in the wet. Fortunately I was able to come back the next day ready to ride."
The Millennium Technologies racer didn't walk away from his crash unscathed, suffering some bruising on his lower back and spine area. Despite the injuries Wyman held out through his Sunday morning warm-up sessions for the Harley-Davidson series final.
After a race-long battle with series regular opponents Steve Rapp and Shane Narbonne and an opportune moment in the final four laps to take the lead Wyman scored his seventh AMA Pro Harley-Davidson series victory.
"It's been such an up-and-down season for the KWR crew this year, and I'm just glad to have finished off the season on a high note," Wyman said. "It feels great to be able to go into the offseason with good memories from the last race. I wanted to win a race with a gap, and we finally did that."
Wyman also reflected on the season as a whole. "I feel as though we accomplished some great things both on and off the track this year, gave our great sponsors like Millennium Technologies and Lucas Oil the exposure they deserve, and most of all, had fun doing it. I'm looking forward to what 2015 has in store for the new MotoAmerica series."
Kyle Wyman and Millennium Technologies are currently enjoying the off-season and preparing for the 2015 AMA season.
To obtain the same performance services and parts that Kyle uses for your motorcycle or powersports vehicle, visit http://www.mt-llc.com to view Millennium Technologies products and services.
Keep up with Kyle on his Facebook page: http://www.facebook.com/kylewymanfans