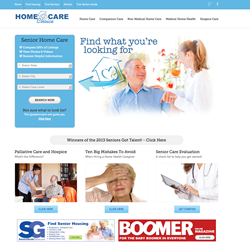 Home nurses and companion caregivers become an important part of the patient and their family's lives, so it's important to find trusted care that is the best fit
Richmond, Virginia (PRWEB) September 19, 2014
In their latest article to help seniors and their families find affordable home care options, Seniors Guide has published, "Questions for Home Health Care Agencies" on http://www.HomeCareChoice.com - their website for finding Home Care and Hospice at-home services in Virginia, North Carolina, Ohio, and Indiana.
Seniors Guide and HomeCareChoice.com suggest asking questions about licensing, costs, services offered, training and education, and also inquiring about references for individual caregivers.
"Home nurses and companion caregivers become an important part of the patient and their family's lives, so it's important to find trusted care that is the best fit", says Katharine Ross, Vice President of Seniors Guide.
Because caregiving depends on trust, Seniors Guide and HomeCareChoice.com suggest interviewing multiple caregivers and advise to not be afraid to ask questions.
The questions provided in the article aim to guide family caregivers and patients in the right direction when choosing local home care options.
"We are lucky to have multiple home care agencies available in our areas – some even having individual specialties in care that can help most unique aging scenarios at home."
"From 24/7 care to scheduled hourly assistance, companion home care and medical home care caregivers are typically pretty flexible with how they can help – just ask!", says Ross.
In addition to offering advice on hiring an at-home caregiver, Seniors Guide and HomeCareChoice.com also provide a forum where those currently receiving home care can share their experiences – good and bad.
"We want to empower our readers and website visitors with education and resources so that they can keep their health, and the health of loved ones, a priority that can be maintained with a level of comfort and ease", says Ross.
Seniors Guide, published by Ross Publishing, is a Richmond, Va. -based company. Seniors Guide magazines can be found throughout Cincinnati, Ohio; Columbus, Ohio; Dayton, Ohio; Indianapolis, Indiana; Raleigh-Durham, North Carolina; Central Virginia including Charlottesville, and Fredericksburg; and Roanoke-Lynchburg, Virginia that feature correlating websites of http://www.SeniorsGuideOnline.com and HomeCareChoice.com. Seniors Guide's mission is to help seniors and their families find the information they need on options available in senior friendly apartments, home care and other at-home services, assisted living, independent living, retirement communities and other aging solutions. Ross Publishing, Seniors Guide's parent company, began in 1991 and has been publishing helpful, free publications and websites ever since.