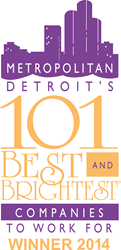 Providing an innovative culture that keeps our team members engaged, supports our community and lends itself to a healthy work-life balance is paramount to building a strong team
Troy, MI (PRWEB) September 18, 2014
A collaborative culture, engaged workforce and powered by fun attitude are just some of the reasons why Billhighway was named a "Metropolitan Detroit Best and Brightest Company to Work For" this year. 2014 marks the fourth win for the company, with prior wins in 2010, 2012, and 2013. The Michigan Business and Professional Association (MBPA) presents the award annually to leading companies having the most innovative and thoughtful human resources approach.
Everything Billhighway does stems from its Playbook, a collection of core values that make up the foundation of every department, meeting, product, and team member. Team member success held an onsite book drive last year to promote the company's Impact play, which channels a passion to do more good and give back to the community. Team members were asked to contribute gently used or new books that were then donated to Operation Kid Equip, a local charity that provides school supplies and aid to children living in poverty in metro Detroit.
Billhighway team members work hard to win new clients, renew contracts and develop cutting edge product features that make nonprofits more successful. Never all work and no play, the company celebrates progress metrics and milestones with catered lunches and visits from the "Good Humor" ice cream truck. Infusing fun and the element of surprise makes for a better workplace and a better business practice.
"Providing an innovative culture that keeps our team members engaged, supports our community and lends itself to a healthy work-life balance is paramount to building a strong team," said Brenda Gallick, Team Member Success Leader at Billhighway. "We're thrilled to be recognized for our commitment to building a better workplace."
The Billhighway team will be honored at an awards luncheon to be held on September 23, 2014, at the Detroit Marriott at the Renaissance Center in Detroit, Michigan. The 101 winning companies will also compete for 12 elite awards, with winners revealed during the luncheon.
About Billhighway (http://www.billhighway.co)
Billhighway, headquartered in Troy, Michigan, develops cloud-based automation software that makes nonprofit financial management easier. Since 1999, we've helped our clients free up internal resources and focus more time on mission by increasing revenue, cash flow and the bottom line. Through a robust, rules-based engine that integrates payment processing, banking and accounting with existing systems, Billhighway provides a transparent, holistic view of your organization's finances so you can work smarter, not harder. Billhighway is recognized for award-winning customer service and industry-leading data security.
(###)