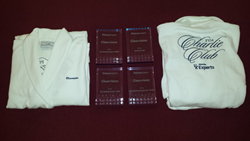 We've been a sponsor at the Atlassian Summit since 2009 so to become the leading partner for sales is a proud achievement. We wouldn't have achieved this milestone without the trust of the delighted clients we serve around the world.
(PRWEB UK) 19 September 2014
At the Atlassian Summit Clearvision were officially announced as the Number 1 partner for global sales of the Atlassian tools. Winning four awards of a possible twelve, the team who have offices in the UK, Ireland and North America, publicly thanked Atlassian and their growing client base for the success.
Managing Director, Gerald Tombs, said: "we've been a sponsor at the Atlassian Summit since 2009 so to become the leading partner for sales is a proud achievement. We wouldn't have achieved this milestone without the trust of the delighted clients we serve around the world."
"We have actively recruited some of the finest talent to help us service all of our client's needs. Consulting, training, support and software branding are all serviced by a growing team of software development experts. These staff have enabled us to become a trusted partner for organisations worldwide", he added.
Clearvision's four awards were for top selling expert EMEA, Top selling JIRA Expert, top selling Dev Tools and a Charlie award (for exceeding $1m new license sales).
This is recognition of the true team spirit within the Clearvision camp and the single focused direction they are all pulling in to 'enable their customers'.
Many Clearvision customers have complimented the technical skills, the friendly nature of all personnel and the overall engagement experience.
One such customer is Application Manager for Procter and Gamble, Susan, who said: "Just wanted to take a moment to thank you for your quick response to my call for help, in getting Jira setup on extremely aggressive timing, for one of the largest and most complex projects that Procter & Gamble and our Global Business Services organization, has ever initiated and delivered."
Clearvision might not be the largest partner Atlassian has, and there are certainly partners in the ecosystem with higher overall revenue, but there is no doubting Clearvision have the right sustainable business model for the future and above all, the right attitude and desire to ensure they continue to delight their customers.
Spectrum ALM is key to future growth
Spectrum is an end to end software delivery platform that is a first for supporting 'best in breed'' tooling in the ALM industry. With a choice of industry leading software development tools, including the best of Atlassian and Open Source, Spectrum is set to revolutionise the way organisations build software.
For the Summit Clearvision came up with a brand new limited edition offer for their flagship product, Spectrum ALM. Spectrum Jumpstart gives 10 users access to 10 ALM tools for just $10 a month. These tools include Atlassian favourites such as JIRA, Confluence and Stash.
This offer will continue to run for a short time after the Summit. Click here to learn more.
Clearvision launched a brand new website just before the Summit, where you can learn all about our new ALM solution. For more head over to SpectrumALM.com.
Looking to the future...
Clearvision continue to grow and, with the excitment around Spectrum and the ALM industry, this trend looks set to continue.
For a considerable number of years development companies have been inventing and reinventing connections and data exchange points for all the tools used in the 'production line' of software development.
The common themes that ran through this year's Atlassian Summit centred around simplifying the connectivity between tooling, improving productivity and reducing potential interruptions and downtime.
This challenge is felt by companies of all sizes. The only difference between large organisations is they will dedicate DevOps resources to resolve this problem. Spectrum is aimed at reducing the DevOps workload thus allowing them to refocus their efforts.
For smaller oganisations who can not justify a DevOps resource, the Spectrum solution and encompassing support offerings minimise such a need and investment. Spectrum Jumpstart is aimed directly at new startup organisations with a development team of less than 10 and do not have the time to support the tooling production line, but require a development production line. In two days Clearvision signed up more than thirty companies who wanted to try Spectrum for themselves.
By the time the Atlassian Summit 2015 rolls around Clearvision are confident they'll have more exciting announcements and even more awards.
If you're interested in Spectrum or any of Clearvision's services please contact the team on UK Tel: +44 (0) 845 459 9530 or USA Tel: +1 (215) 854 4055. For more info visit: http://www.clearvision-cm.com/