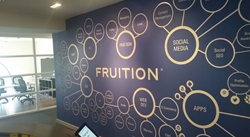 Our proprietary technology combined with the continued outstanding results we produce for clients has been our key to success.
Denver, CO (PRWEB) September 17, 2014
Big things are happening for Fruition Internet Marketing, a digital marketing company specializing in website development, search engine optimization (SEO) and search engine marketing (SEM). They are hiring for numerous positions, expanding their office space, and they were honored with a spot on the coveted Inc. 5000 list for the fastest-growing, privately held companies in the 33rd annual listing. Business is booming.
Founded in 2003, Fruition has experienced steady growth since its inception, at an average rate of 35% annually since 2005. The need for Fruition's internet marketing services has continued to increase since its inception, even during the recent economic downturn. Listed in the Inc. 5000 for fastest growing companies, Fruition experienced 167% growth in 2013 and added 27 jobs in the previous three years.
"The digital industry is in a state of rapid growth as most companies are realizing the necessity of taking their business and brand online to reach new customers," said Jonathan Mills, Director of Business Development for Fruition. "Our proprietary technology combined with the continued outstanding results we produce for clients has been our key to success."
To meet the needs of their growing customer base, Fruition is expanding their team and hiring for several different positions, ranging from project managers to IT managers, several marketing and research positions, and range of development positions. They are currently hiring 14 new employees within the next few months, in addition to 16 positions recently filled. There is also already discussion of more openings before the end of the year in preparation for 2015. For each position, Fruition is looking for energetic, intelligent, team players that work together to provide their clients' competitive leverage in everything digital, including SEO, social, SEM, website design and development, mobile applications, video, and more.
"Technology and development of consumer tools along with increasing our clients' sales and business are the key ways Fruition aims to continue to grow our business moving forward," said Brad Anderson, president and founder of Fruition. "We can help achieve these results by hiring talented, forward-thinking individuals passionate about digital marketing."
To help accommodate the new staffers and the company's overall advances, Fruition is expanding their Cherry Creek North location and more than tripling their office space. After evaluating spaces in several areas of Denver including LoDo, RiNo, and the Golden Triangle, Fruition's employees decided the amenities in Cherry Creek could not be beat. Fruition recently completed renovations have taken over the entire top floor of their current office building at 201 Fillmore Street, Suite 200. Amenities at their location include free Wi-Fi for guests, free parking in the bustling Cherry Creek sector, additional meeting space and resource libraries, and technology-driven applications.
"Fruition is excited to stay in Cherry Creek and continue growing its local talent base to serve our growing client base in every state and dozens of countries," says Anderson. "Our exceptional work culture and technical team deliver results that help our business thrive in this ever-changing industry and help our clients make digital their competitive advantage."
For more information on Fruition and to view current job openings, please visit their website.
About Fruition Internet Marketing
Fruition is a Colorado-based Internet services company that specializes in website development, social, SEM, mobile applications and SEO for small business and enterprise clients. The company also provides proprietary SEO software including the Google Penalty Checker and Click Fraud Tool as well as hosting and security services and overall IT infrastructure. Ranked as the top SEO Company by SEO USA and one of the best places to work by the Denver Business Journal as well as listed on the INC 5000 list, Fruition's clients range in industries including government entities, health care, finance and ecommerce retail.