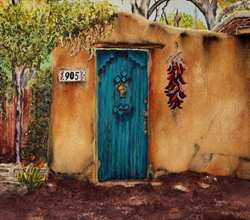 Scottsdale, Arizona (PRWEB) September 24, 2014
"From the moment Sandi first visited Arizona, she was captivated by the beauty of our desert, so much so, that she and her family moved here," said Judith Combs, CEO of the award-winning Thunderbird Artists and CEO/Partner of Arizona Fine Art EXPO. "We're thrilled that her work is being recognized in such a prestigious publication and we invite everyone to meet her and our other outstanding artists during our 10-week Arizona Fine Art EXPO event."
Ciaramitaro is one of 100 renowned artists who will set up a studio in EXPO's big white tent from January 16 - March 29, 2015. In addition to her trademark watercolors and oil paintings, Ciaramitaro will exhibit a new series of works in bronze. She will be onsite daily from 10 a.m. to 6 p.m., giving potential and seasoned collectors an opportunity to meet her and watch her create.
Ciaramitaro has expanded her EXPO studio space into two adjoining booths this year (#56 and #61), devoting one to her new series of bronzes titled With Respect. She will fill her other EXPO studio with her signature gem- and mineral-infused watercolors and plein air oils, which highlight historic Southwest barrios, missions, and landscapes. Noted for their extraordinary lustre and complex layering, Sandi's highly sought-after watercolors feature such precious and semiprecious stones as garnet, lapis, peridot, and turquoise, along with minerals like red hematite, travertine, jasper, and pyrite.
Now in its 11th year, the Arizona Fine Art EXPO features more than 100 artists under one roof, exhibiting and working in individual studio spaces carved into a 44,000-square-foot tent. Visitors may view hundreds of artworks for purchase, and also experience artists as they work in all media, including paint, clay, metal, and stone, among others. In addition to the artist marketplace, the EXPO also features a two-acre sculpture garden and café. For more information, visit http://www.arizonafineartexpo.com.
Phoenix Home & Garden showcases contemporary regional design for interior and exterior spaces, food and entertainment destinations, as well as collectible fine artists from around the region. For more information, visit http://www.phgmag.com.
ABOUT SANDI
For nearly two decades, Sandi Ciaramitaro worked as a draftsperson for the top three U.S. automakers, utilizing her degree in auto-body design. She now works exclusively as a professional artist, and has become internationally known as a highly collectible painter of watercolors and oils.
Sandi lives and works in the Usery Mountains, where she finds continual solace and inspiration. "To peer upon the desert and watch the coyotes and javelina dart about in wild abandon is truly inspirational," she muses. She also travels throughout Arizona, New Mexico, and California to discover fresh subject matter and vision. "Each location needs to inspire me when I am there, or it is simply not painted. Without that feeling of intimacy, a drawing is merely a picture. I want my audience to feel that they are with me, and that they can experience the meaning of the place when they step into the piece."
Sandi's passion emerges not only in her ability to capture the quintessence of her subject matter, but also in the very personal way she imparts her love of the Southwest to viewers. Sandi maintains a close connection with her collectors, giving them first access to her new works and sharing with them the story behind each painting. Sandi considers her collectors partners in her process, gleaning not just affirmation, but insight from them. In that vein, her enthusiasm for art, community, and life continues to shine.
Sandi's work has appeared in various publications, including Southwest Art, the Peak, and Western Art Collector magazines.