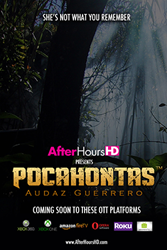 It's all about showcasing consumer products woven into engaging entertainment
Los Angeles, CA (PRWEB) September 18, 2014
After Hours HD (http://www.afterhourshd.com), a new digital broadcast channel promoted on After Previews Tv digital hubs and After Hours HD mobile app, integrates native advertising embedded in the storytelling process. The channel, already scheduled to debut on Roku TV, Amazon Fire TV, Opera TV and Android TV will now find the gamer audience on Xbox systems under the Xbox Live broadcast channel. "It's all about showcasing consumer products woven into engaging entertainment," states Producer Kevin L. Summerfield. "It's harnessing the power of show and tell in a very exciting way."
The channel, described as 'Netflix for short form content', will feature extensive marketing integration with After Previews Tv digital hubs which will be available, for starters, in 175,000 car service centers nationwide. "The integrated product lines are a perfect companion piece at brick & mortar locations that allow viewers to self-select short form promotional entertainment while they wait an average of 40 minutes or more at service centers, then carry that discovery over to mobile devices and eventually in the living room" states Matthew Orenstein, former Director of Domestic Network Distribution for HBO who is now spearheading the rollout of After Previews Tv and After Hours HD as SVP of Sales/Marketing. "It's perfect for building customer relations and generating great word-of-mouth for these service centers while giving sponsors fantastic targeted exposure through the infotainment tablet itself and through the customized content on the digital channels."
The After Hours HD app is available for download now (http://bit.ly/1uooeDv) and serves as a teaser platform, allowing brand awareness to build across key social media outlets. Preview Buzz, also available on iTunes and Google Play, features general audience promotional trivia and sponsored giveaway contests in conjunction with the entire product line.
In addition to targeting car service centers, After Hours HD will put out a call for content, particularly for short form web series. "In this way, we will rapidly grow our volume of content and, through a screening process, our quality of content" adds Orenstein. "Similarly, we will also rapidly build our audience base thus making us even more attractive to Native Advertisers and Advertisers in general."
About After Hours HD
After Hours HD is the broadcast channel of AfterShow HD™, a division of Scorpio Pictures, Inc. The cross-platform product line targets a wide user demographic through sponsorship advertising integrated within the entertainment content for maximum viewership retention.