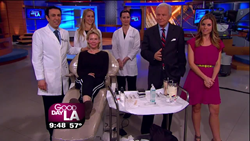 Los Angeles, CA (PRWEB) September 17, 2014
According to an August 5, 2014 U.S. Food & Drug Administration report titled "Adverse Events Associated with Use of Enhancement Medical's "Expression" Intranasal Splint as a Dermal Filler," unapproved use of Expression, a hyaluronic acid product, for dermal filler injections has resulted in adverse reactions including discoloration, lumps, bruising, nodules, and swelling. Hyaluronic acid based products with FDA approval for cosmetic use include Restylane, Juvéderm, Perlane, and Voluma. (see:goo.gl/85IBlV)
Dr. Simon Ourian, Medical Director of Epione Beverly Hills, performed a laser stretch mark removal procedure on Kim Kardashian on the February 23, 2014 episode of Keeping up with the Kardashians.
"I'm no longer surprised when I learn about violations such as this," says Dr. Ourian. "When there's a little bit of extra money to make some people will cut corners, even licensed physicians. And it's almost impossible to be surprised anymore at the risks patients will take to save a few bucks in the name of beauty."
The FDA report is intended to provide notice to both consumers interested in a procedure using a wrinkle filler and the physicians that provide these treatments. Expression is intended for use as an intranasal splint; injected post-operatively, the hyaluronic acid functions as a lubricating gel. It was never intended to be used as an injectable dermal filler. The FDA considers dermal filler injectables to be Class III medical devices that require the manufacturer to submit clinical data supporting effectiveness and safety prior to marketing. According to the FDA, the manufacturer of Expression has never submitted this data.
"Once again patients are reminded that they must be the ultimate guardians of their own health," says Dr. Ourian. "The best way to do so is to become an informed consumer."
Dr. Ourian has been a pioneer in laser technology and non-invasive aesthetic procedures including Restylane, Juvéderm, Radiesse, Sculptra, and CoolSculpting. These treatments are used for the correction or reversal of a variety of conditions such as acne, acne scars, skin discoloration, wrinkles, unwanted fat, stretch marks, varicose veins, cellulite, and others. More information about dermal filler injections can be found on Epione's website.