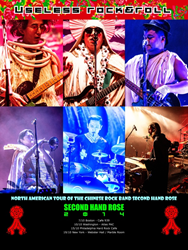 Boston, MA (PRWEB) September 18, 2014
Beijing-based Second Hand Rose, one of mainland China's biggest rock bands, will be performing at Boston's Red Room at 939 Club on October 7th as part of their debut #UselessRockUSA tour. Preceding the show, the band will give a lecture at Berklee College of Music's "Current Issues in the Music Industry" class on band management in China and changes transforming the industry.
SECOND HAND ROSE #USELESSROCKUSA TOUR (BOSTON)

Band Management in China Lecture
Date/Time: Tuesday, October 7, 11am
Location: Current Issues in the Music Industry, room 231, 2nd floor of 7 Haviland, Berklee College of Music
** #UselessRockUSA Concert
Date/Time: Tuesday, October 7, 8pm
Location: Red Room at 939 Club, 939 Boyleston St, Boston
Tickets: https://www.vendini.com/ticket-software.html?t=tix&e=cfdad8fac2be242a22ed6fe7c78264e0
The 2-week Northeast tour, which also includes event in New York, Philadelphia and Washington DC, will introduce audiences to one of the most unique brands of rock & roll to come out of the Middle Kingdom. To fund their travels, the band set up a crowdfunding campaign through PledgeMusic (http://pledgemusic.com/projects/secondhandrose). Fans can pre-purchase tickets to any of the club shows or pick up items from the band's clothing line, Red & Green. The patterns are designed by Liang Long and based the classic floral prints of northeastern China, instantly recognizable throughout the country for the red-and-green color combinations.
Back in 2000, singer Liang Long and suona (a wind instrument) player Wu Zekun burst onto Beijing's underground music scene with a performance style that's part cabaret, part Chinese theater, and part rock 'n' roll dance party. The band eventually filled out to a six-piece and set itself apart from its peers with live shows that have something in common with the tongue-in-cheek provocation of bands like the New York Dolls and the Japanese style of Visual Kei. Liang is known to perform in partial drag, at times a nod to the Shanghai glamour girls of the 1930s or taking on aspects of a People's Liberation Army general in lipstick, while guitarist Yao Lan regularly strips down to his underwear before taking the stage.
The shows also feature elements of Peking Opera, folk tunes, and especially a stage tradition from China's northeast called Two Taking Turns. A playful, sexually charged form of verbal sparring between a male jester and female beauty, Liang Long takes on both male and female roles on stage.
The name Second Hand Rose comes from the notion that rock in China is a secondhand and imported endeavor—as such, the band's song "Leading a Dabbling Life" devolves into a Chinese sing-along version of Michael Jackson's "Smooth Criminal." After more than a decade of winning over new fans around the country, earlier this year, Second Hand Rose played for a crowd of over 30,000 at the Strawberry Music Festival in Beijing, and last year they headlined a concert in Beijing's state-owned Workers' Gymnasium, one of the most prestigious venues in the country.
Second Hand Rose links:
YouTube: http://www.youtube.com/user/2ndHrose
Facebook: https://www.facebook.com/2ndHRose
Twitter: http://www.twitter.com/2ndHrose