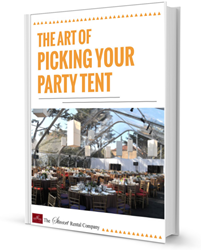 When planning a tented event, it's important to first determine the type of tent that is best suited for your event and your guests
(PRWEB) September 18, 2014
A dramatic trend toward flexibility and customization is underway in the event planning industry. People who are in the midst of planning major events are searching for more personalization. As an expert in the field, The Stuart Rental Company has seen firsthand the value of tent rentals when it comes to event customization and it wants to help people to make good choices about the equipment they rent. To that end, the company has launched a new eBook called, "The Art of Picking Your Party Tent." It is designed to help planners choose the right tents for weddings, fund-raisers, corporate events, and ceremonies.
In addition to offering protection from the elements, there are many other reasons for hosting tented events. Tents provide the freedom to customize everything from the atmosphere, outdoor views, design and specifications.
"Rather than struggling to locate a venue that will fit your event's needs, you can design a tented space that is tailor-made to meet your needs," says The Stuart Rental Company's owner, Andrew Sutton.
But there is much more to planning a tented event than measuring the available space and choosing the prettiest option. As "The Art of Picking Your Party Tent" explains, there are three major kinds of tents from which to choose: frame tents, tension tents, and structure tents. Each kind of tent differs in construction, shape and advantages. "When planning a tented event, it's important to first determine the type of tent that is best suited for your event and your guests. This is where an eye for detail comes into play," says Sutton.
In addition to the number of guests and the kind of event, there are other factors involved when considering tent rentals, such as the season and time of day. Other aspects include décor and lighting along with the possibility of adding walls and floors. All of these things can help to brighten and personalize an event when used appropriately. The Stuart Rental Company launched its new eBook to make it less overwhelming to choose from so many options.
The Stuart Rental Company also poses several questions that must be asked before a choice is made such as "On what kind of surface will the tent be erected?" "How much space is available at the event site?" "How many people need to be accommodated and in what configuration?" and "What kind of tables and chairs will be needed?" "The Art of Picking Your Party Tent" gives in-depth options for these questions to help to further determine what is best for various events and locations.
About The Stuart Rental Company:
From corporate events and fundraisers to weddings and birthday celebrations, The Stuart Rental Company is dedicated to helping its customers celebrate life's most memorable events. The Stuart Rental Company is comprised of a group of dedicated professionals, with years of event expertise, who have a passion for event planning. With showrooms located in Milpitas, Mountain View and Castro Valley, the company has provided quality party rentals and tent rentals throughout the San Francisco Bay Area for over 100 years. Stuart Rental offers a large selection of tent rentals including various size tents, lighting, drapery, staging, dance floors, etc., as well as party rentals, including tables, chairs, linens, china, flatware, and glassware. Stuart Rental not only has the products to realize a detailed vision, but also the expertise and dedication to make each event a true celebration of life.