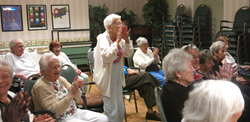 Our residents look forward to this special week-long event every year, filled with activities and programs that truly celebrate our seniors and their hobbies and interests.
Whippany, N.J. (PRWEB) October 02, 2014
A highlight every September at the Lester Senior Housing Community in Whippany, N.J. is the residence's annual observance and celebration of National Assisted Living Week. This year's theme was "The Magic of Music" and the community's Judy & Josh Weston Assisted Living Residence was the site for a full complement of music-related activities.
The week started off with a performance by classically trained singer Estere, who performed a wide variety of songs ranging from opera, to traditional Israeli, Spanish, and Yiddish songs to contemporary and show tunes. Residents from the community's Margaret & Martin Heller Independent Living Apartments joined in the fun, which included a celebration of Grandparent's Day.
Later in the week, residents and their families enjoyed a Mexican theme cocktail party with hors d'oeuvres, frozen margaritas, music and dancing; and the Shiru Na Choir, under the direction of choir leader Ronnie Weinstein, performed selections of Yiddish, Hebrew and English favorites. Weinstein also leads the JCHC Resident Choir which performs every year at the Annual Dinner of the Jewish Community Housing Corporation of Metropolitan New Jersey, the non-profit organization that owns and manages Lester Senior Housing Community and three other senior residences, which are in South Orange and West Orange in Essex County, New Jersey. David Azrach, a therapeutic drumming circle facilitator, led a drumming circle session and the Mitzvah Clowns also made an appearance.
Lester Senior Housing Community is located at 903-905 Route 10 East in Whippany, on the Alex Aidekman Family Jewish Federation campus, and offers a range of housing options, amenities, and programs for seniors in luxury surroundings. For more information, call (973) 929-2725 or visit http://www.jchcorp.org.
About the Jewish Community Housing Corporation of Metropolitan New Jersey Founded in 1983, the Jewish Community Housing Corporation of Metropolitan New Jersey (JCHC) owns and manages more than 470 apartments in four buildings for older adults in Morris and Essex counties in northern New Jersey. The non-profit organization offers seniors a range of options in terms of services, amenities, location, and cost, all within a traditional Jewish environment. The JCHC provides housing, programs, and services for the independent elderly as well as those who need assisted living. For more information, go to http://www.jchcorp.org.