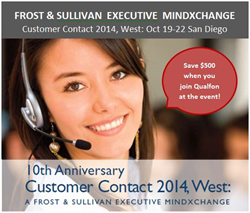 (PRWEB) September 22, 2014
Qualfon, a people-driven business process outsourcing (BPO) company and global provider of call center services, announced that it is supporting and speaking at the upcoming Frost & Sullivan event, Customer Contact 2014, West: An Executive MindXchange, October 19 - 22, 2014 in San Diego, CA.
Qualfon CSO, Bob Dechant, will co-present alongside Vice President of Service Operations, Maureen Shea, of zulily, an online retailer known for bringing moms special finds every day. The two will deliver an interactive session, Delivering Premium Care for High-Value Customers, and discuss how companies have created a customer-centric organization that thrives on the unique nature of customers and delivers a personalized experience without breaking the bank. Attendees will walk away with:

A guide for avoiding self-defeating self-service and allowing the customer access to service when and where they want it
Examples of creating personalized customer interactions by coaching to behaviors and avoiding scripting
Insight on enhancing engagement through empowerment, so service representatives are not handcuffed by company procedures and have the authority to help
A quality assurance approach that is not just a checklist of actions but also takes the customer reaction into consideration
Additional members of Qualfon's executive team will attend the event to build relationships and exchange ideas that will help the company continue to lead the industry in employee retention and loyalty. At the exhibit hall, Qualfon will also distribute white papers on how to increase employee retention and on the growing BPO industry in Guyana, South America—an emerging market due to its low-cost services delivered in native English.
Participants can save $500 off registration by using Qualfon's preferred pricing code: q500
Learn more about the event and register at: http://www.frost.com/ccw
About Qualfon
Qualfon is a people-driven business process outsourcing (BPO) company and a global provider of call center services and back-office processing. With experienced BPO leadership and a strong track record of business growth dating back to our founding in 1996, Qualfon helps companies reduce costs and deliver superior customer experiences. Today, we have 11,000 employees serving international brands across many industries, and our intelligent outsourcing locations span the United States, the Philippines, Guyana S.A., Mexico, and China. Qualfon's mission to "Be the Best BPO, Make People's Lives Better" means we invest in our people, and in return, they take better care of you and your customers. Qualfon's employee retention is twice the industry average, which creates a people-driven value chain: Our employees stay longer, providing you a higher quality service at a lower price. http://www.qualfon.com