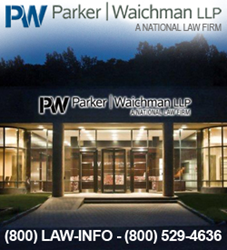 "Parker Waichman LLP continues to represent individuals who have allegedly suffered injuries associated with DePuy metal hip replacement devices and is pleased to see the Pinnacle litigation moving forward," said Gary Falkowitz, Managing Attorney
Port Washington, New York (PRWEB) September 17, 2014
Parker Waichman LLP, a national law firm dedicated to protecting the rights of victims injured by defective medical devices, notes that the first bellwether trial involving Johnson & Johnson's DePuy Orthopaedics Pinnacle hip device is entering its third week and DePuy executives have been called to testify. The case is Herlihy-Paoli v. DePuy Orthopaedics Inc., U.S. District Court, Northern District of Texas (Dallas) (Case No.: 11-cv-3590).
Dr. Tony Nargol's videotaped testimony was adjourned on September 11, 2014 with no concurrent objections; however, DePuy filed a Motion for Mistrial concerning this testimony. The testimony had been specifically ruled on and approved by the Court, which ultimately denied the Motion, denied the request to strike Dr. Nargol's testimony, declined to give any curative instruction, instructed the parties to confer before playing the remainder of the videotaped testimony, and instructed the parties to proceed with the next witness.
Pamela Plouhar, the worldwide vice president of clinical research at DePuy was called and, in live testimony, defended the way in which DePuy assessed safety risks involving its metal-on-metal Pinnacle hip devices. The plaintiff's attorney said DePuy did not perform critical safety testing on the device. The bellwether is the first trial to be heard among more than 6,000 similar cases brought over the Pinnacle and consolidated in Dallas federal court, according to a September 16, 2014 Reuters report.
Parker Waichman LLP points out that the outcome of the bellwether case may affect DePuy's decision to either continue fighting the cases in court or settling cases.
Herlihy-Paoli and other plaintiffs bringing the cases all similarly allege that DePuy neglected to understand potential risks associated with the Pinnacle device and also did not advise patients and physicians about risks tied to the metal-on-metal device. Instead, plaintiffs allege, according to the Reuters report, that DePuy marketed the Pinnacle as safe. Dr. Plouhar was questioned about the research conducted on the Pinnacle to show jurors that DePuy was negligent in gathering clinical data prior to approval from the U.S. Food and Drug Administration (FDA) in 2000.
Dr. Plouhar also acknowledged that "no human study that looked at" the health effects of metal shedding from the Pinnacle was conducted prior to 2001. Yet, according to the Reuters report, Herlihy-Paoli's attorney indicated that research as far back as 1974 suggested that there were problems associated with the Pinnacle.
The Pinnacle device is meant for use in reconstructing hip joints that become diseased due to conditions including, osteoarthritis, rheumatoid arthritis, avascular necrosis (AVN), fracture, and other degenerative conditions, notes Parker Waichman LLP. The Pinnacle is constructed of a metal ball that sits on top of a metal stem that is inserted into the thighbone. This metal ball rotates within a cup, modeling the "ball-and-socket" mechanism of a natural hip. The lawsuit alleges that this device releases toxic metal particles when paired with an "Ultamet" metal liner.
This new round of lawsuits involves allegations that the chromium and cobalt metal-on-metal Pinnacle hip is defective and caused metal debris to shed and leech into the bloodstreams of patients implanted with the device. In this first bellwether, allegations include that the metal led to an infection that involved the plaintiff having to undergo revision surgery to have both artificial hips explanted, or removed, according to a September 2, 2014 Bloomberg.com report.
In last week's testimony, Herlihy-Paoli's lawyer discussed documents that revealed that Los Angeles surgeon, Dr. Thomas Schmalzried, who consulted with DePuy on the Pinnacle, said in 2001 that additional information was required to assess the metal debris risk in the Pinnacle hips. Meanwhile, this week, Dr. Plouhar insisted that DePuy followed industry standards and, when asked, said that DePuy conducted the "necessary studies" regarding metal ions to prove the Pinnacle was safe, according to Reuters.
The live testimony of Dr. Plouhar continued on September 16, 2014; however, DePuy's legal team requested that time limits be imposed on the Plaintiffs' examination. That same request was made, also by the Defendants, concerning Dr. Schmalzried who is expected to return next week. The Court denied both requests. Witness Dr. John Fisher, a tribologist retained by DePuy, is expected to testify following Dr. Plouhar.
Parker Waichman LLP recently represented a woman from Maricopa, Arizona who suffered a number of serious health problems that were allegedly caused by the DePuy Pinnacle hip implant. The firm is suing DePuy Orthopaedics, Inc. and Johnson & Johnson on the Plaintiff's behalf, and filed the lawsuit on December 16, 2013 in the U.S. District Court for the Northern District of Texas (Case No.: 3:13-cv-04892-K; MDL No. 3:11-md-02244).
"Parker Waichman LLP continues to represent individuals who have allegedly suffered injuries associated with DePuy metal hip replacement devices and is pleased to see the Pinnacle litigation moving forward," said Gary Falkowitz, Managing Attorney at the Firm.
Parker Waichman LLP also continues to offer free legal consultations to victims of DePuy Pinnacle and other metal-on-metal hip implant injuries. If you or a loved one have experienced premature failure of your implant, or other health problems associated with the Pinnacle or other metal-on-metal hip replacement device, please contact the Firm at its DePuy Pinnacle hip implant lawsuits page at yourlawyer.com. Free case evaluations are also available by calling 1-LAW-INFO (1-800-529-4636).