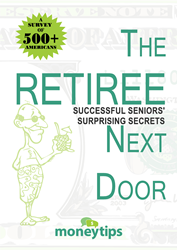 Only 17% of successful retirees first calculated how much they would need for retirement in their 20s or 30s; 36% never made this calculation!
Los Angeles, CA. (PRWEB) September 18, 2014
Personal finance community MoneyTips.com today announced the results of its comprehensive study, "The Retiree Next Door: Successful Seniors' Surprising Secrets." More than 500 American men and women were surveyed to learn how they prepared for -- and are getting the most out of -- their golden years. Those that self-identified as retiring successfully were the focus of the study's final analysis. Their concerns, triumphs and missteps are revealed in findings that are both troubling and encouraging. Among its findings:
Financial concerns keep 49% of successful retirees awake at night:

25% worry about outliving their savings or about their spouse outliving their savings.
24% list healthcare costs as their primary worry, while 23% say maintaining their current standard of living is their main anxiety.
Less than 1% spend lavishly. 65% percent spend enough to live comfortably and 35% consider themselves frugal spenders.
Insights into successful retirees' lifestyles, planning and spending decisions include:

Half (49%) saved for retirement during their 20s and/or 30s. 42% played catch up during their 50s, socking away 11% or more of their gross income. 58% continued to save for retirement in their 60s.
Only 17% first calculated how much they would need for retirement in their 20s or 30s; 24% waited until their 50s or 60s. 36% never made this calculation.
Before they retired, 67% spent enough to live comfortably and 30% were frugal spenders. 62% stuck to a budget.
What were retirees' biggest financial missteps?

Though stocks were named the highest performing asset class by 54% of successful retirees, nearly 1 in 4 cited unwise stock investments as their biggest financial regret.
13% of respondents said real estate is their top performing asset. 14% said a real estate-related decision was their biggest financial misstep.
"It's never too early to start planning for retirement," said Marc Diana, CEO of MoneyTips. "If you're looking for ways to increase your chances of retiring comfortably, find out directly from the people who've done it. The survey reveals how much these retirees saved -- and how they saved it -- how they live, earn and spend today, how they minimize the chances of outliving their savings, and how they prepared for retirement during every decade of their lives."
The survey results are examined in a free eBook written by Emily Guy Birken, author of The Five Years Before You Retire. MoneyTips' hope is that the collective wisdom of these retired and semi-retired men and women who report they are living comfortably in retirement -- together with insights from 26 personal finance bloggers and top social influencers -- will help Americans prepare for a successful retirement.
View the survey infographic
About the study: Personal finance community site MoneyTips fielded an online retirement survey to 510 Americans from July 23-August 31, 2014 to better understand how successful retirees live and how they prepared for their golden years.
About MoneyTips:
MoneyTips is a dedicated personal finance community that empowers consumers to make wise decisions about investing, borrowing, insurance, retirement and more. Free access to MoneyTips' extensive network of financial experts, as well as thousands of articles, videos and opinions provide common-sense approaches that enable you to improve your financial health. For more information, visit MoneyTips.com
Please join the MoneyTips Community on Facebook, LinkedIn and Twitter.