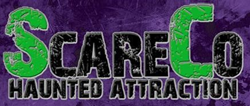 Few buildings are vast enough to hold the sound of time, and none of them better than a train station.
(PRWEB) September 18, 2014
All Aboard! It was announced today that the Bay area is seeing strange apparitions in the mists near Oakland's Historic 16th Street Station. The clamoring of metal and the sawing of wood has given way to the newest collaboration of scares that will test the limits of reality and make everyone, truly afraid of the dark!
"A great collaboration of masterminds brings our vision to fruition," said Joshua Overturf, "This new level of fear has grown to a level that has surprised us and will terrify each patron!" ScareCo, Inc. is excited to launch the 2014 Halloween season with its Grand Opening of Platform 13 on Friday, September. 26 in Oakland, CA, which is prepared to scare patrons out of their minds and overload their senses with depravity.
ScareCo, Inc. will bring three uniquely haunted "attractions" located within Oakland's Historic 16th Street Station at 1601 Wood Street, Oakland, CA 94607. From the terrifying Platform13, the interactive paranormal investigation of Contact, and the nightmares of a twisted journey with Kaiju Encounter, each attraction is packed with special effects that will both amaze and terrify patrons over and over again. There will be ghouls, zombies, monsters, creatures and more thrills than ever. "The Bay Area has no idea what is about to hit them this Halloween season," says Alex Riner-Willens.
ScareCo, Inc. kicks off with a two night experience on September 26 & 27. Afterward, watch for the attractions to be running in October from Thursday through Sunday up to Halloween night and through November 1st, 2014. A single ticket for Platform13 is $20, with a "Round Trip Ticket" available for $38 that gives the purchaser access to all three haunts.
Each attraction has its own special theme and special effects; there is no overlapping of features or scares. The haunted attractions ScareCo, Inc. has waiting are:
Platform13: The thick Bay Area Fog is no stranger in this town but lately the neighbors have been afraid to open their eyes at night. They say you can hear the rumbling of a steam engine, metal moving along steel tracks, and the faint sounds of whistles late at night. Many say they have even seen a ghost train rolling into the abandoned Platform13 station, only to have it disappear into the mist.
Stand alongside passengers, who may not exist in this realm and are looking for a traveling companion! Are you brave enough to board the phantom train of Platform13? Does the fire of lost souls fuel this steam engine? We dare each visitor to hop on board and remember, don't forget your one way ticket!
Contact: The paranormal activity in the train station has been growing and with over 102 years of history, some is good and some well, not so much. The most infamous case is that of the 4:45 train to Grand Island Nebraska, the sister station to Oakland, CA. This train was sent by engineer and member of "The Big Four," Theodore Judah. Set to arrive at midnight two days after leaving the train station, it was carrying an unknown cargo -- the train never arrived and there were no traces left behind.
We have located the epicenter of the activity, set up testing equipment, and we're looking for answers. Join our ghost hunters as they travel alongside each visitor on a ghost hunt no one will ever forget! Ever wanted the chance to come along for the ride of your life, just like a real ghost hunter? The activity in the station has been the strongest we have ever seen in one location, and we are all standing in it!
Prepare yourself for an all new experience in fear with Dexter Morgan's Contact Attraction.
Contact Attraction Price: $12
Kaiju Encounter: There have been so many unexplained accidents during the construction of the new subway tunnel that wok has been brought to a halt. Even though the authorities are still investigating, many local politicians have insisted that work continues, and are convinced there is no danger below. In an effort to sway public opinion, groups of citizens have been invited to tour the site and see for themselves.
As they descend into the stygian darkness, feelings of unease turn to dread and finally, sheer horror as they discover the source of the strange noises that struck fear into the hearts of the tunnel workers. Confronted by sights that defy belief, their minds turn to one thought only…escape!
Kaiju Encounter Attraction Price: $12
Tickets for all ScareCo Haunted Attractions can be purchased online (http://www.scarecopro.com) or in cash at the door.
About ScareCo, Inc.
Showcasing the latest techniques in scare tactics and digital technology, ScareCo, Inc. was founded in 2014 by Joshua Overturf and Alex Riner-Willens. ScareCo, Inc. is quickly coming together in leading the Nation for Fear Creation with some of the scariest, most realistic haunted attractions. With more than 20,000 square feet of space the interactive and scare rooms will leave each visitor wanting more but too afraid to seek it out.
In addition to Platform13, ScareCo Haunted Attraction features Contact, The Kaiju Encounter and a Last Ride for a truly one-of-a-kind scare. Although ScareCo, Inc. is a family owned and operated haunt, it is not recommended for small children.
"Few buildings are vast enough to hold the sound of time, and none of them better than a train station."
About Alex Riner-Willens
As an employee at several haunted attractions, Alex fell into the haunt industry but once he was in, he knew he had found his calling. Alex has traveled across the US to experience the multitude of professional haunts; Alex is dedicated to bringing his experience from all of his ventures to create terror within the excitement through ScareCo Haunted Attraction and Platform 13.
About Joshua Overturf
Halloween is Joshua's first love and as a young teen Josh started out making masks and creating very successful haunted houses in his garage. Moving through his career, Josh has worked with several professional haunts including those produced by The Boy Scouts of America, Knott's "Scary" Farm as well as Universal Studios all the while, he "moonlighted" as Director of Audio/Visual with several PSAV properties. Then in 1996, Josh teamed up with The Haunted Hotel, Inc. and in 2006, as their Director of Operations he wanted to bring his experience to those worthy in being afraid! After nearly a decade of screams in San Diego, Josh and Alex partnered together and created a frightening new venture aimed at bringing the best of "Fear" to the Bay Area, and ScareCo., Inc was created.
About Dexter Morgan
Dexter Morgan is a magician, laser tactician and optical professional who is known for working with Chris Angel on his MindFreak series. Working with Magic and Illusion has afforded Morgan the ability to take your scare to another level.
Dexter is a member of the International Brotherhood of Magicians, President of the Brotherhood of Underground Magicians, and a member of the Society of Magical Arts, The Magic Castle. In 2003, Dexter received the annual V.G. Award from the Brotherhood of Underground Magicians for his insightful view of Magic.
Dexter Morgan has worked with the Sanger Paranormal Society and has conducted over 800 séances and has performed for such notable celebrities as Joan Cusack, Alan Autry, Doug Bradley, Chubby Checker, and rock musicians Wayne Static of the band Static-X, Jonathan Davis of Korn, and the band Sevendust.
About Cleve Hall
Cleve Hall is a special effects artist, make-up artist, and actor who starred on the SyFy reality television series "Monster Man". Working with Sota F/X Notable clients as seen on Monster Man have been Sean S. Cunningham, Tony Randel, The Asylum, Devo, and Richard Elfman. Cleve has a notable history of film work which includes work on Troll (1986), TerrorVision (1986) and Ghoulies (1984). He has also worked on PeeWee's Big Adventure (1985) in which he played Godzilla in a suit he had created himself.
In 2014 Cleve formed a new special effects company, DaiKaiju Co. LLC, with his daughter Constance Hall, also an effects artist, as partner. Constance and Elora, also co-starred with him on his reality show, Monster Man. For ScareCo, he has created a twist on Kaiju through his "Ultimate Kaiju Encounter" with a journey into the Nightmares of the Kaiju, where he promises to bring the big monster to the Bay!
Headquartered in Oakland, CA, ScareCo, Inc's website is officially released and waiting for all the Living to logon and get directions, ticket information, samples of our scare tactics, and other information, at: http://www.scarecopro.com