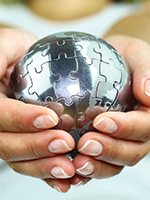 Richmond, VA (PRWEB) September 18, 2014
Mindbender opens at the Science Museum of Virginia on Saturday, September 27. This wonderfully puzzling world of brainteasers and interactive challenges is guaranteed to test your brain power.
Can you balance 14 nails on the head of a single nail? Can you remove a ring from a pair of linked horseshoes and then put it back on? With 40 individual puzzles and five large-scale group activities, Mindbender's brainteasers range from easy to head-scratching to just plain difficult.
"Guests will have to sharpen their problem solving and critical thinking skills to solve these unconventional challenges," explains Richard Conti, Chief Wonder Officer, Science Museum of Virginia. "Mindbender is engaging and fun for all ages, immersing participants in STEM and creating moments where guests are learning without even being aware of it."
Puzzlers will need to set aside preconceived ideas, implement logic and reasoning, and get creative to complete this eclectic collection of mindboggling puzzles. Throughout the exhibition, guests will get inspiration from inventors and gather hidden clues to become a member of the illustrious Mindbender Society.
Tickets are $11 with a $1 discount for ages 4-12 and 60+. For more information or to purchase tickets visit http://www.smv.org or call 804.864.1400.