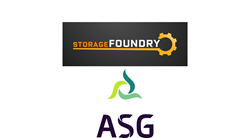 San Mateo, CA (PRWEB) September 18, 2014
The Nautilus/ASG relationship is perfectly suited to bring scalable archiving solutions, from active, to medium, and even long term data archiving, to verticals that store massive amounts of content for any length of time. This includes media and entertainment, life sciences and the growing market of machine-produced data. When used together, Nautilus and ASG-Digital Archive will drive down the cost of storing and managing archive content.
"storageFOUNDRY is pleased to work with ASG to expand its ASG-Digital Archive large volume archiving software offering to the growing disk storage environment," said Donald Hows, director of marketing at storageFOUNDRY. "Nautilus is a massively scalable, open-source, software-defined storage solution that offers the performance and convenience of disk, but at an extremely low cost, creating strategic benefits for applications that previously relied solely on tape for data archiving."
"ASG-Digital Archive enjoys a superior reputation as a centrally managed, secure and comprehensive data archive that is built on an open architecture, making for a seamless integration into the open-source Nautilus infrastructure," Hows added. "Nautilus is a proven platform, offering multi-protocol, high-throughput access in a self-healing platform. Since it is a cloud-based platform, it allows for rapid installation, integration with legacy data and provides users with a level of storage flexibility not previously available."
storageFOUNDRY delivers innovative solutions that aim to reinvent the way in which IT services and applications can be managed and delivered.
"ASG is proud to partner with storageFOUNDRY," said Robert Overzee, product marketing manager, data protection products at ASG Software Solutions. "We believe this partnership delivers a much needed, cost-effective solution to the marketplace, and we look forward to solving our mutual customers' business challenges with it."
About storageFOUNDRY
storageFOUNDRY provides next generation storage solutions for data intensive workloads the world over, enabling many of today's most challenging storage problems to be managed with ease. Globally scalable and infinitely extensible, software-defined storage architectures provide digital content producers and users with leading high-capacity, high-performance data storage solutions. Founded in 2013, storageFOUNDRY is headquartered in San Mateo, CA. For more information, visit us at http://www.storagefoundry.net.
Press Contact:
Donald Hows
855-337-6855
don@storagefoundry.net
About ASG Software Solutions
ASG Software Solutions connects sophistication and experience with agility and technological efficiency, through its vendor-agnostic cloud, content and systems solutions. ASG helps companies solve today's most pressing business issues, including everything from reducing operating costs and enhancing workforce productivity to ensuring regulatory compliance. With customers like American Express, Coca-Cola, GE, HSBC, IBM, Lockheed Martin, Merrill Lynch, Procter & Gamble, Sony, Toyota, Verizon, and Wells Fargo, ASG can proudly say that more than 70 percent of global Fortune 500 companies trust it to optimize their existing IT investments. Founded in 1986, ASG Software Solutions is a global company headquartered in Naples, Florida, USA, with more than 1,200 employees. For more information, visit http://www.asg.com or find us on Facebook, LinkedIn, Twitter or YouTube.
Press Contact:
Meredith L. Eaton
March Communications
+1 617-960-9877
ASG@marchpr.com