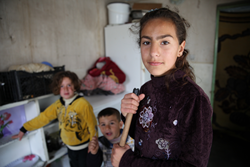 Portland, OR (PRWEB) September 17, 2014
The next generation of Syrians – adolescents on the cusp of adulthood – is in danger of being overlooked by the global community's humanitarian and educational response in the region. Of the 1.5 million Syrian refugee children under the age of 18, nearly one in every four is an adolescent. These highly vulnerable young people lack sufficient psychosocial support, education and skills-building programs. Subsequently, they are missing critical educational and life milestones, according to a new research report from the global humanitarian agency Mercy Corps.
"The consequence of forgetting the unique needs of this next generation is that they will become adults who are ill-equipped to mend the torn social fabric and build back broken economies in Syria and across the region," says Matt Streng, senior youth development advisor at Mercy Corps and author of the report. "Investing in adolescents now, at a time when they are making decisions that will impact the rest of their lives, will yield dividends for decades to come for the peace and productivity so desperately needed in Syria and the region."
The Mercy Corps report includes a number of recommendations to invest in adolescent-specific programming including:

Expand psychosocial support to reduce isolation, marginalization and hopelessness;
Reduce barriers to education, including discrimination and bullying, improve protection and provide alternative learning options that are accessible and flexible; and
Strengthen employability as well as technical and vocational skills training.
"The educational challenges are many – overstretched school and teacher capacity, poor quality instruction, instruction in multiple languages and challenges in school registration," says Streng. "Students need a flexible and demand-driven alternative."
The research was conducted through focus-group discussions with 365 adolescents ages 12-18, segmented by sex and nationality. These discussions included both Syrian and host-community adolescents, and were conducted in both urban and rural locations in Jordan, Lebanon, the Kurdistan Region of Iraq and Gaziantep, Turkey. Download the full report "Syrian Adolescents: Their Tomorrow Begins Today."
About Mercy Corps
Mercy Corps is a leading global humanitarian agency saving and improving lives in the world's toughest places. http://www.mercycorps.org.