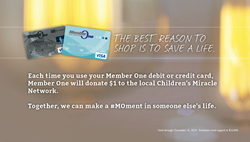 We are deepy committed to our communities--especially our youth
Roanoke, Virginia (PRWEB) September 18, 2014
Member One FCU has teamed up with Fox 21/27 for the launch of Red Band Society to make a huge impact in southwest Virginia. Red Band Society is a television show that follows the lives of teen patients in a Los Angeles hospital.
The promotion with Fox 21/27 brings a local element to the television show. As the main component of the promotion, Member One has pledged a generous donation to the Children's Miracle Network to help renovate the teen room at Carilion Clinic Children's Hospital in Roanoke, VA.
"This past June, when the show Red Band Society was screened for the local Fox affiliates, I was immediately enthralled. I saw the potential to use this show as a platform to help the Carilion Clinic Children's Hospital via the Children's Miracle Network. But it really all came together when we approached the wonderful people at Member One Federal Credit Union to be our sponsors for our project of rejuvenating the teen room," said Debbie Reardon, Group Director of Creative Services for Fox 21/27.
Daniel Bliley, Director of Marketing at Member One FCU, echoed those sentiments, "We are deeply committed to our communities—especially our youth. We are excited that Fox 21/27 approached us with the idea to partner with the Children's Miracle Network. Carilion Clinic Children's Hospital provides outstanding care for youth patients, so we are on board with anything we can do to help."
To help raise money for the teen room, Member One will make a donation to the Children's Miracle Network every time a Member One debit or credit card is used to make a purchase from September 17th until December 31st, 2014, for a total donation up to $10,000. The money will be used to help make renovations to the teen room at the hospital.
"The Red Band Society fundraiser is a wonderful opportunity for us to achieve this. We are all so grateful to Fox 21/27 and Member One for making not only the fundraiser itself, but the renovation of the teen room possible. Located on the pediatric floor of the Children's Hospital, it will serve as a place for teens who are in the hospital to have a place to get away, enjoy some privacy and peace and return a little bit of fun and normalcy to their lives," said Paige Kauffman, Events Coordinator at Children's Miracle Network.