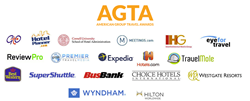 We encourage people to vote to determine and recognize the winners of the American Group Travel Awards
New York, NY (PRWEB) September 18, 2014
Voting is now open to choose the companies and organizations that deliver the best services to group travelers. To vote, please visit http://www.americangrouptravelawards.com and click on the "Start Voting" link on the home page. HotelPlanner.com, Meetings.com, and Group Travel Organiser are the founders of the American Group Travel Awards, dedicated to recognizing companies that deliver outstanding services and experiences to group travelers.
An awards gala is being held at the world famous Hudson Theatre in New York City on November 11th, 2014 to announce the names of the organizations that provide the highest quality in group travel services. There are 23 categories in this year's competition, which cover airlines, hotels, cities, and states. Make your voice heard and vote to decide the winners of the 2014 American Group Travel Awards!
"We encourage people to vote to determine and recognize the winners of the American Group Travel Awards," said Tim Hentschel, CEO of HotelPlanner and Meetings.com.
About HotelPlanner
HotelPlanner.com provides online services to the global group hotel sales market. Its service ensures the lowest rates by allowing customers to receive quotes online directly from hotel group sales managers. The company also provides mobile applications for booking group hotel reservations and owns and operates Meetings.com, a site that provides information on meeting and banquet venues around the world for corporate and association meeting planners. Its services allow customers to book hotels for business meetings, conferences, conventions, family reunions, weddings, extended stays, tours, military reunions, church events, and group travels. HotelPlanner.com was founded in 2002 and is based in West Palm Beach, Florida. The company also opened its European headquarters in London, United Kingdom in 2012.
About Meetings.com
Meetings.com focuses on business travel and helping corporate event planners book space for meetings plus hotel rooms. The mission of Meetings.com mission is to be the premier site for information on meeting and banquet venues around the world. Through direct relationships with the leading meeting and banquet venues around the world, Meetings.com will quickly find clients the perfect space and the best price. Through combining technology with their experienced client-focused team, Meetings.com provides exceptional service to help each client select the optimal venue and/or develop an exclusive corporate hotel travel program always delivering the best price for their hotel travel needs.
About Group Travel Organiser
Group Travel Organiser magazine is the UK's first and leading publication exclusively addressing the needs of group travel organizers. GTO was first published in 1988 and over the past 19 years, has brought a wealth of news, information, and ideas for group trips to organizers all over Great Britain. The magazine is still published ten times a year and mailed to 10,000 individuals, along with numerous supplements on particular countries, regions and subjects of interest to groups.
To find out more information about AGTA, please contact Bruce Rosenberg at (818) 661-0244 or via email at Bruce.Rosenberg(at)americangrouptravelawards.com.