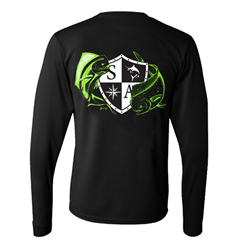 Boca Raton, Florida (PRWEB) September 19, 2014
Salt Armour opened its doors a short 9 months ago and has since seen an immense amount of success, both on and off the water. As a lifestyle fishing apparel brand, Salt Armour has quickly made its way into the closets and boats of the world's most avid anglers and proponents of all things saltwater fishing. TSF Sportswear recently named the brand Florida's biggest buyer of blank shirts, further highlighting Salt Armour's growing sales numbers.
As the popularity of Salt Armour apparel builds and expands, product demand continues to develop at rapid rates. The success of Salt Armour shirts can be attributed to a number of things. First and foremost, Salt Armour has a supernatural ability to connect with their audience. A true proponent of building a culture around their brand, Salt Armour lovers do not simply wear the apparel, they brag about it. Sporting a Salt Armour shirt while out on the water means being a member of the growing SA Team.
In addition to connecting with their audience and thus creating brand advocates, Salt Armour has developed an innovative way to engage with their customers. For instance, take a look at Salt Armour's Instagram page and you will notice that the company takes to social media to create their newest shirt designs. Using crowd-sourcing as a way to determine what their customers are looking for builds Salt Armour two-fold: 1) consumers further connect with the brand and 2) they are able to play a role in determining the next "it" piece of saltwater apparel.
Being named the biggest buyer of shirts in Florida is just one of Salt Armour's many accolades this year. As the company expands, one thing is for certain: every member of the SA Team is as important as the next. Anglers who sport the Salt Armour logo seem to be just as proud of the catch they reel in as they are to associate themselves with their saltwater family.