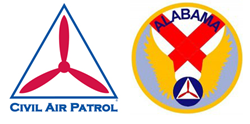 Abbeville, Alabama (PRWEB) September 17, 2014
Alabama Wing searches for missing Piper Cub
Plane with 2 aboard fails to return from leisure flight
Cell phone forensics are guiding the Civil Air Patrol Alabama Wing for a pilot and his co-pilot who departed Headland, Alabama, at 10 a.m. Tuesday. The Piper Cub, which was on a leisure flight to Eufaula, Alabama, about 40 miles away, was reported missing by family members when it did not return to Headland as scheduled about 2 p.m.
The wing began a ground and air search mission today for the missing Piper. The two-seater is an older, olive drab, military observation plane.
The search is being conducted in cooperation with the Henry County Sheriff's Department and the county Emergency Management Agency, as well as other local law enforcement and emergency responders.
Both the pilot and passenger are experienced pilots.
Anyone with information about this missing aircraft is asked to contact the Sheriff's Office at 334-585-3131.
Civil Air Patrol, the official auxiliary of the U.S. Air Force, is a nonprofit organization with 60,000 members nationwide, operating a fleet of 550 aircraft. CAP, in its Air Force auxiliary role, performs about 85 percent of continental U.S. inland search and rescue missions as tasked by the Air Force Rescue Coordination Center and is credited by the AFRCC with saving an average of 70 lives annually. Its unpaid professionals also perform homeland security, disaster relief and drug interdiction missions at the request of federal, state and local agencies. The members play a leading role in aerospace education and serve as mentors to more than 24,000 young people currently participating in the CAP cadet programs. Performing missions for America for over 70 years, CAP will receive the Congressional Gold Medal in the coming months in honor of the heroic efforts of its World War II veterans. CAP also participates in Wreaths Across America, an initiative to remember, honor and teach about the sacrifices of U.S. military veterans. Visit http://www.gocivilairpatrol.com, http://www.capvolunteernow.com and http://www.capgoldmedal.com for more information.
Contact info:
Julie DeBardelaben – jdebardelaben(at)capnhq(dot)gov – 334-953-7748, ext. 250; 334-549-2224 (mobile)
Steve Cox – scox(at)capnhq(dot)gov – 334-953-7748, ext. 251; 334-296-5881 (mobile)