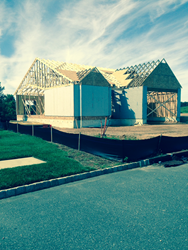 Millville, NJ (PRWEB) September 18, 2014
Schaeffer Family Homes has been very busy at Millville's premier active adult community, Four Seasons. Construction on the model home is officially underway. The walls have started to go up and residents are excited to see the progress. The Jaxon model will be completed by the New Year and this decorated model will be filled with many surprises. The team at Schaeffer is also proud to introduce an advanced wall system that they will use within their homes allowing homeowners to save money on their utility bills. Check back for updates on this advanced technology.
With Fall approaching Schaeffer Family homes is now onsite full time and they are excited to introduce Four Seasons new Community Manager, Brad Levine. Brad has been part of the Schaeffer Family for two years and is excited to embark on this next journey. He has been extremely successful in the selling of their communities throughout South Jersey. Brad is currently selling out of the community's 7500 square foot clubhouse but the sales center will relocate to the model once complete.
Earlier in the month, the residents of Four Seasons held a Roaring Twenties party. It was one of their largest events to date. Residents dressed in their finest twenties attire and danced the night away. The catered party was held in the clubhouse and attended by over 100 people. The evening included live music, a magician, and a fortuneteller.
For more information on Four Seasons at Millville visit SchaefferHomes.com or call 856-208-5118 to schedule an appointment. The Sales office is open Monday 11- 6, Tuesday 1- 6, and Wednesday through Sunday 11- 6. The GPS address to the community is 9101 W. Buckshutem Road Millville, NJ 08332.