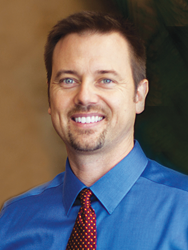 Mountain Home, AR (PRWEB) September 17, 2014
Dr. Derrick Johnson, a dentist in Mountain Home, AR, recommends dental implants to his patients who are interested in improving oral and physical health during Self-Improvement Month this September. Missing teeth affect more than the appearance of the smile. In the first year, significant bone loss and facial restructuring begin. Implants look and act like natural teeth while preventing the issues that occur with dentures and bridges.
The traditional way to replace missing teeth involves placing a false tooth or plate of teeth on top of the gums. A bridge is attached by filing down the surrounding teeth in order to affix the replacement tooth, while dentures simply rest on the gums. Neither of these methods is an ideal replacement for natural teeth because the tooth roots have an important function below the gums.
While tooth roots secure the tooth in the mouth, they also stimulate the jawbone and preserve bone density. When there are missing teeth, the stimulation stops and bone loss occurs. As the bone disintegrates, it is absorbed into the system and the face begins to shrink. Dentures no longer fit and begin to slip and click.
Dental implants use a titanium post to take the place of the tooth roots and provide the stimulation needed for healthy bone density while keeping the tooth firmly in place. Food choices are not limited with dental implants because they are anchored into the jawbone in much the same way as the natural teeth. Dr. Johnson's patients in Mountain Home, AR who opt for dental implants can care for replacement teeth as they would natural teeth with regular brushing, flossing and visits to the dentist for professional cleanings.
Self-Improvement Month is the perfect opportunity for patients in Mountain Home, AR to speak to Dr. Johnson about the health benefits of dental implants. More information is also available on Dr. Johnson's website.
About the Practice
Integrated Dentistry is a general practice offering personalized dental care for patients in Mountain Home, AR. Dr. Derrick Johnson graduated from the Ohio State University College of Dentistry and has practiced for over 18 years. Dr. Johnson possesses extensive experience in general and reconstructive dentistry, treatment of TMJ dysfunction (including jaw joint and head and neck pain), esthetic dentistry, and implant dentistry. However, the prevention of dental disease and teaching patients how to maintain their oral health is the primary emphasis in all areas of his practice. To learn more about the dental services at Integrated Dentistry, visit their website at http://www.smilingagain.com or call (800) 856-1670.