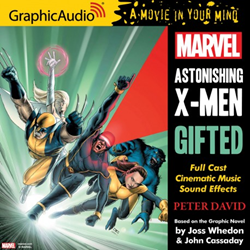 Bethesda, MD (PRWEB) September 18, 2014
GraphicAudio® A Movie in Your Mind®, in conjunction with Marvel Entertainment, is pleased to announce the release of two exciting full-cast recordings based on exciting graphic novels. Enhanced with sound effects and music, these audio adaptations let you experience heroes from the X-Men and the Avengers in an entirely new way.
Marvels's Astonishing X-Men: Gifted, is based on the novel, Astonishing X-Men: Gifted Prose Novel by Peter David which was adapted from Astonishing X-Men: Gifted by Joss Whedon and John Cassaday.
In Gifted, the X-Men have evolved. Cyclops and Emma Frost re-form the team with the express purpose of "astonishing" the world. But when breaking news regarding the mutant gene unexpectedly hits the airwaves, will it derail their new plans before they even get started? As demand for the "mutant cure" reaches near-riot levels, the X-Men go head-to-head with the enigmatic Ord, with an unexpected ally - and some unexpected adversaries - tipping the scales! Experience the blockbuster re-imagining of the X-Men like never before in this prose adaptation!
New Avengers: Breakout is a dramatically different take on Brian Michael Bendis' blockbuster Avengers comics debut. In Breakout, comics author Alisa Kwitney reveals the secret backstory of Avengers couple Hawkeye and Black Widow. The story is set in motion when expert marksman Hawkeye becomes caught up in a violent prison break that releases some of the world's most vicious and powerful criminals. Originally under orders to assassinate the spy code named Black Widow if she attempts to escape, Hawkeye decides it's better to defy his superiors and partner with the sultry Russian. In their quest to make things right after the breakout, the pair come together with a team of mismatched heroes that include Spider-Man, Spider-Woman, Luke Cage, Captain America and Iron Man. As the team travels from Manhattan's top security Super Villain Prison the Raft to the untamed jungle of the Savage Land, unexpected betrayals and shocking revelations come to light.
Available from http://www.GraphicAudio.net and via the FREE GraphicAudio Access™ Mobile App which allows customers to directly download titles on their Android or iOS smartphones and tablets.
About GraphicAudio® A Movie in Your Mind®: An imprint of The Cutting Corporation, since 2004, GraphicAudio® has published approximately 900 titles and 60 different series in their GraphicAudio® A Movie in Your Mind® audiobook entertainment format. For more information visit: http://www.graphicaudio.net
About Marvel Entertainment
Marvel Entertainment, LLC, a wholly-owned subsidiary of The Walt Disney Company, is one of the world's most prominent character-based entertainment companies, built on a proven library of more than 8,000 characters featured in a variety of media over seventy years. Marvel utilizes its character franchises in entertainment, licensing and publishing. For more information visit marvel.com. © MARVEL