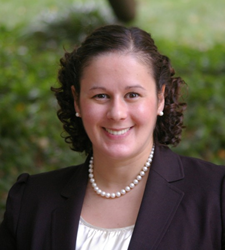 Towson, MD (PRWEB) September 18, 2014
Leading Maryland law firm JM Blattner, LLC, Attorneys at Law, is excited to welcome a new attorney, Elena Schlickenmaier, to the firm. JM Blattner, LLC is expanding to Virginia, and Schlickenmaier will be managing the launch of the firm's new office in Fairfax.
Schlickenmaier received her B.A. and M.A. at Georgetown University, and completed her J.D. at The Catholic University of America. She has a breadth of experience in estate planning, wills and trusts, and estate administration and probate in the Virginia and Washington, DC region. Her experience in securities law, financial services, and trusts and estates allow her to offer full service legal support to individuals, families, and small business owners.
From 2009 to 2013, Schlickenmaier served as an Associate at WilmerHale LLP in Washington, DC, where she consulted broker-dealer, investment advisors, and financial clients on regulatory and compliance issues. She has also provided pro bono legal assistance to seniors through the AARP's Legal Counsel for the Elderly program.
Schlickenmaier is also an Associate Financial Advisor with First Command Financial Planning, Inc. in Fairfax, VA, where she provides financial planning services. She holds the Series 7 and 66 securities registrations, and state life and health insurance licenses. There is no business association between JM Blattner, LLC and First Command.
As JM Blattner solidified plans to expand into the Virginia region, the firm identified the need for an established Virginia legal professional to oversee the opening of the new location. Schlickenmaier was quickly singled out as the top candidate for the position, and was brought on to the firm in 2014. She will bring her wealth of financial and legal experience to the new office and help lead JM Blattner, LLC's expansion into Virginia.
"We are pleased to welcome attorney Elena Schlickenmaier to the JM Blattner LLC team," said Julius Blattner, owner and founder of JM Blattner, LLC. "We are confident that her knowledge and experience will greatly benefit our clients."
For more information about JM Blattner, LLC, visit their website at https://www.jmblattner.com/
About JM Blattner, LLC, Attorneys at Law
JM Blattner, LLC, Attorneys at Law, is a premier full service law firm, designed to provide leading edge services for today's developing legal landscape. JM Blattner provides the conveniences of a general practice with the skill and proficiency of a boutique firm. All clients are assigned an attorney who is qualified to handle their particular legal issue.
JM Blattner, LLC has offices in Columbia, MD and Towson, MD. Their new Fairfax, VA Office is located at:
11350 Random Hills Rd
Suite 800
Fairfax, VA 22030
703-279-6433