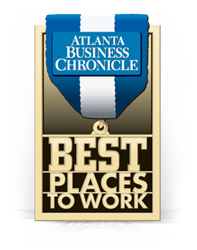 Atlanta, GA (PRWEB) September 18, 2014
Soliant Health, a leading specialty healthcare staffing provider and part of Adecco Group, was named among "The Best Places to Work" in Atlanta Business Chronicle's 2014 survey.
Using Quantum Workplace's workplace culture assessment services, Atlanta Business Chronicle surveyed Atlanta employees to select the Top 100 employers in the metro area. The list was divided into three categories: small (10-100 employees), medium (101-500 employees), and large (501+ employees). Award recipients were determined through a series of surveys administered to employees. The survey consisted of questions about work environment, people practices, and other matrices.
Soliant Health was announced among Atlanta Business Chronicle's top mid-size employers at the 2014 Atlanta's Best Places To Work Awards hosted in the Georgia World Congress Center on Sept. 12.
"We're pleased to be named among the 2014 Best Places to Work in Atlanta for the second year in a row," said David Alexander, president of Soliant Health. "This award is a testament to the quality of our people and our commitment to building an outstanding company culture."
For more information about Atlanta Business Chronicle's Best Places to Work awards, please visit http://www.bizjournals.com/atlanta.
About Soliant Health
Soliant Health, an Adecco Group company, is a leading provider of specialized healthcare staffing services to hospitals and healthcare providers. By supplying traveling healthcare professionals on both temporary and direct hire assignments, Soliant Health delivers comprehensive healthcare staffing services to leading facilities across the United States. Soliant's teams of professionals are qualified to fill physician, nursing, therapy, pharmacy, clinical research, imaging, and other healthcare positions.