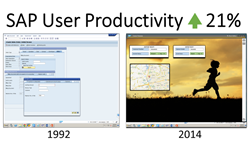 This service allows customers to eliminate extraneous SAP screens, tabs, and fields by an approximate 7:1 ratio. The benefits clients can expect include user productivity improvement up to 21 percent and reduction of user training costs up to 40 percent.
Dallas, Texas (PRWEB) October 09, 2014
The SAP Screen Personas tool enables companies to modify SAP screen interfaces for their users so that traditional, multi-screen transactions can be replaced with web based SAP front-end by displaying only fields that are absolutely necessary to complete the business task, such as a sales order. This tool is free-of-cost to existing SAP customers and has been successfully deployed by large corporations such as Unilever and Shell to drive organizational productivity globally.
CoAppSys offers an all-inclusive, fast-track implementation service using SAP Screen Personas. The service is aimed to simplify and optimize the commonly used business transactions by eliminating extraneous SAP screens, tabs, and fields by an approximate 7:1 ratio. The benefits to clients include user-productivity improvement up to 21 percent, reduction of SAP user-training costs up to 40 percent, and enhanced user experiences and user satisfaction up to 25 percent due to the simplification of the new interfaces.
CoAppSys has further developed an advanced expertise in integrating external applications into a web-based SAP screens such as Google maps, to display customer location. When users no longer need to go through ten different SAP screens and make 20 or more clicks to complete a task, a customer service employee can increase their productivity from 6 calls to 14 calls per hour, or a sales team can spend less time completing order entries and more time making sales.
"As former IT leaders, we are familiar with key expectations of business leaders," said Rajesh Kulkarni, former CIO of a F500 firm and current president of CoAppSys. "We have designed our services to meet our customer key expectations of their investment returns, reliability, and quality of our services while keeping client's resources minimally involved. The entire project can be completed in as early as six to twelve weeks depending on the complexity of the current SAP systems in place."
CoAppSys is a SAP Application Development partner and has its own SAP Center of Expertise located in Plano, Texas with a research focus on improving organizational productivity of manufacturing firms using SAP products and services such as SAP Screen Personas, SAP Fiori and SAP Hana.
About CoAppSys
CoAppSys is an SAP system integration company which was formed by a group of former CIOs of Fortune 500 businesses. Company's leadership team has 60 plus years of combined experience in SAP implementation, giving firm a unique advantage of bringing employee-perspectives that drives a more reliable result for clients. The company is using innovative technology solutions in combination with industry-specific knowledge to improve the end-user productivity of global manufacturing businesses. For more information, call CoAppSys at (214) 396-6600, email at Personas(at)CoAppSys(dot)com, or follow @coappsys on Twitter.