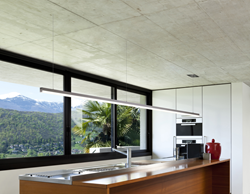 We pride ourselves on creating versatile products that utilize the latest in LED technology
Chicago, IL (PRWEB) September 18, 2014
In a nod to its progressive designs and advanced LED technology, Edge Lighting once again gains distinction in a prominent industry competition designed to promote and recognize LED lighting innovation and excellence. The Cirrus Channel Suspension R1 is a winner in the 2014 Lighting for Tomorrow competition, which encourages manufacturers to develop well designed, energy efficient LED lighting products. Lighting for Tomorrow is jointly sponsored and organized by the American Lighting Association (ALA), the Consortium for Energy Efficiency (CEE) and Underwriters Laboratories, LLC (UL).
"We are very excited to receive recognition for our products," said Edge Lighting and Pure Lighting president Greg Kay. "We pride ourselves on creating versatile products that utilize the latest in LED technology. Our frequent industry recognition is validation for what we are doing!"
As a winning LED decorative fixture in the competition, Edge Lighting's Cirrus Channel Suspension R1 joins the ranks of the highest quality LED lighting available on the market today. The Cirrus Suspension features a fully-adjustable mounting system and rectangular 1" lens with 100 degree beam spread. Available in 3-inch increments with six beautiful finishes and several wattage options, the adaptable luminaire provides an off-the-shelf custom solution for personalized LED lighting and freedom of expression in design. Providing both vertical illumination and task lighting, the dimmable channel delivers up to 95+CRI LED light for accurate color rendering in the space, features a smaller profile than fluorescent predecessors and runs seamlessly up to 40' without dark spots.
"Edge Lighting's growing popularity among lighting designers and specifiers is a direct result of our commitment to providing technically superior lighting systems that are easily tailored to create custom looks," continued Kay. "Our fixtures can be specified in precise lengths personalized to suit your needs: this lets you break from the grid to get the light you want so that you are not stuck with the standard 2, 4 or 8 foot sizes."
About Edge Lighting
See it in a New Light. Edge Lighting takes pride in solving basic lighting problems through the use of technical knowledge design engineering, cutting-edge LED technologies, and the essential elements of contemporary yet timeless aesthetics. Specification grade, energy efficient fixtures and systems offering superior craftsmanship with many products made in the USA. Simple yet elegant, the entire collection is ideal for a variety of indoor and outdoor applications in both residential and commercial environments. http://www.edgelighting.com