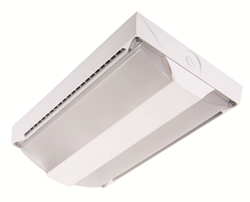 We are honored to receive this prestigious NGL award for our Millenium OS. Jim Hawkins, CEO, Kenall Lighting.
Gurnee, IL (PRWEB) September 17, 2014
Kenall Lighting, a leading provider of commercial lighting solutions for over 50 years, has been recognized as a winner in the Next Generation Luminaires™ (NGL) Indoor Design Competition for its Millenium OS™ (MOS) LED stairwell luminaire.
The NGL judges selected the MOS for its robust design and light distribution and noted that it was suited for high light output applications. Kenall's Millenium OS™ LED luminaire provides greater energy savings, optimized optics and the industry's best 10-year warranty. The MOS is an LED lighting product with an integrated microwave occupancy sensor for user-defined dimming to 10 percent for greater energy savings. Optimized for stairwells, MOS is also flexible enough for other applications, including outdoor use due to its IP65 rating and Wet Location listing.
"We are honored to receive this prestigious NGL award for our Millenium OS," said Jim Hawkins, CEO of Kenall Lighting. "When NGL judges –a diverse panel of experts who design, specify, evaluate and research indoor commercial SSL luminaires– complete an extensive in-situ evaluation and consider a product to be worthy of specification, that's a pretty big deal."
The selection process included 10 judges, and out of 266 products that were submitted to the 2014 NGL indoor competition, only 153 made it to the judging phase with market-ready samples and complete documentation. The documentation – which includes luminaire and component specification sheets, LM-79 test reports, lumen maintenance projections, warranty statements, and marketing materials – ensures actual performance matches what was claimed. The number of entries was the largest in the NGL's six-year history, representing an increase of over 50% compared to 2013.
"Any product that earns the recognition of the NGL judges has to be pretty special," said DOE Solid-State Lighting Program Manager Jim Brodrick. "They're a tough audience – impossible to fool and hard to please."
The prestigious competition, sponsored by the U.S. Department of Energy (DOE), the Illuminating Engineering Society (IES) and the International Association of Lighting Designers, was launched in 2008 to promote excellence in the design of energy-efficient LED luminaires for general illumination in commercial lighting applications. The winning entries were announced at the 2014 Strategies in Light Conference, the world's largest educational and networking platform for the LED and lighting industry.
For additional information, download the MOS brochure from the literature section at http://www.kenall.com, call 1-800-4-KENALL or email info(at)kenall(dot)com.
*****
About Kenall Manufacturing
Since its inception in 1963, Kenall Lighting, located in Gurnee, IL has been known for superior quality, exceptional value, and durable solutions, and it is proud to provide sealed lighting for containment or clean spaces, security lighting for detention facilities, and specialized healthcare and transportation applications. Kenall products are designed and manufactured in the USA and meet the guidelines established under the Buy American Act and the North American Free Trade Agreement. For additional information, visit http://www.kenall.com.
#####