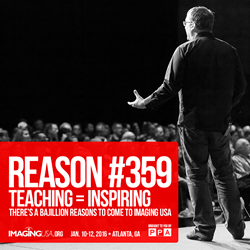 It's a fantastic opportunity to give back to your industry and help thousands of photographers gain a little inspiration
ATLANTA, Ga. (PRWEB) September 18, 2014
Professional Photographers of America (PPA) is calling on professional photographers to speak at Imaging USA 2016 in Atlanta, Georgia. For the first time, PPA is opening submissions to the public.
PPA is looking for professional photographers eager to share innovative business and marketing ideas, avant-garde posing or lighting techniques and more to help raise the bar in the photographic industry.
"It's a fantastic opportunity to give back to your industry and help thousands of photographers gain a little inspiration," said Mike Fulton, Cr.Photog., chairman of PPA's speaker selection committee. "You will speak to professionals who want new ideas and have a desire to learn all about the latest cutting-edge trends and effective business practices. We're not looking for sales pitches, just solid, useable tips and solutions."
Over 10,000 people from around the world attend Imaging USA, making it one of the biggest photography events of the year. Selected speakers will get the chance to increase their exposure, reach and notoriety, while contributing their voice to an industry in need of their passion. As an organization that constantly works on raising the bar in the photographic industry, PPA wants to work with speakers who also embrace and project this image.
There are 10 different tracks to choose from as a speaker, meaning even the most specialized photographers have options in choosing what they would like to teach about. The information on the different tracks offered is available on ImagingUSA.org/Tracks.
Some of the biggest names in photography speak each year at Imaging USA, such as Allison Tyler Jones, CPP, of Allison Tyler Jones Photography in Mesa, Arizona, who is returning to Imaging USA to share her business knowledge. Her motivation to give back is clear.
"I wanted to cut through the typical hype of the one-size-fits-all promises of 'quick and easy tips to instant success,'" she said. "I want everyone who attends my lecture to leave with their heads bursting with ideas on how they can make their business better in their own, unique way."
Imaging USA 2016 will be held January 10-12, 2016, at the Georgia World Congress Center in Atlanta, Georgia. To be considered, interested photographers must submit their application online by Friday, October 3, 2014, 6 p.m. ET at ImagingUSA.org/Speaker-Application. Submissions will be reviewed by PPA's speaker selection committee, with selections to be announced in December 2014.
About PPA
Professional Photographers of America (PPA) is the largest international non-profit association created by professional photographers, for professional photographers. Almost as long-lived as photography itself, PPA has roots that date back to 1869. It assists close to 27,000 members through protection, education and resources for their continued success. See why photographers love PPA at ppa.com.