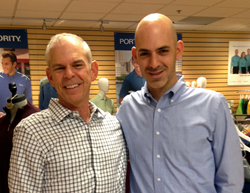 "Everyone on this list has one thing in common: they're a member of a very exclusive club, comprised of the most influential executives in today's ad specialty market," said ASI CEO Tim Andrews
TREVOSE, PA (PRWEB) September 17, 2014
The Advertising Specialty Institute® (ASI) today named the most influential business leaders in the promotional products industry with the release of the 2014 Counselor® Power 50 list, topped this year by Marty Lott and Jeremy Lott of SanMar.
The Lotts, who are in charge of industry apparel powerhouse SanMar, moved from the No. 2 slot last year to No. 1 after garnering tremendous influence ratings in Counselor's survey of the Power 50 members and the industry overall. The father-son duo led SanMar to take home six Counselor Distributor Choice Awards this year, a testament to the legendary customer service that distributors have become accustomed to receiving from the supplier. Family-owned since 1971, the Seattle-area company is a supplier of 17 retail, private label and mill brands.
The high-ranking executives were recognized at the eighth annual U.S. ASI Power Summit, held this year in Scottsdale, Arizona and attended by entrepreneurs, multi-national CEOs and small-business owners throughout the $20.5 billion promotional products industry, which has posted 18 straight quarters of sales growth.
"Everyone on this list has one thing in common: they're a member of a very exclusive club, comprised of the most influential executives in today's ad specialty market," Timothy M. Andrews, president and chief executive officer of ASI, said. "They not only inspire their own employees, but they make others in the market – competitors, clients and vendors alike – change the way they do business. If anyone is setting a course for this industry's future, it's the men and women on this list."
Published 13 times a year by ASI, the Jesse H. Neal award-winning Counselor magazine has served as the voice of the promotional products industry for nearly 60 years. The magazine has recognized the industry's Power 50 every year since 2006.
The rankings of the most influential executives in today's ad specialty market are determined by Counselor magazine editors, along with results of a survey of the industry and the Power 50 themselves that rates whether each person on last year's list has gained or lost influence over the past 12 months. This year's list recognizes 69 men and women from 50 companies.
The top-ranked executives on the 2014 Counselor Power 50 list are:
1. Marty Lott and Jeremy Lott, SanMar
2. Kevin Lyons-Tarr, 4imprint
3. Michael Bernstein & David Nicholson, Polyconcept
4. Marc Simon, HALO Branded Solutions
5. Greg Muzzillo & Vera Muzzillo, Proforma
6. Bill Schmidt Sr., CJ Schmidt & Bill Schmidt Jr., Hit Promotional Products
7. Gene Geiger & Jo-an Lantz, Geiger
8. Jonathan Isaacson, Gemline
9. David Woods, AIA Corporation
10. Norm Hullinger, alphabroder
Click here to read the entire list.
The Power 50 list includes five newcomers:

Amin Rahman and Alan Tabasky, BEL USA
Mitch Mounger, Sunrise Identity
Mark Godsey, Gold Bond
Justin Zavadil, American Solutions for Business
Distributors and suppliers can learn more about members of the 2014 Power 50 in the October online and print editions of Counselor, which contains predictions on what's ahead for the industry.
Andy Cohen is editor of Counselor magazine and Melinda Ligos is ASI's editor in chief and senior vice president of professional development. ASI publishes five magazines, seven catalogs and 11 digital newsletters. ASI's growing magazine circulation is audited, which ensures the quality of the readership, and Counselor magazine's collection of "top" lists – including the Top 40 Distributors and Suppliers – are now the industry standard.
About ASI
The Advertising Specialty Institute (ASI) is the largest media, marketing and education organization serving the promotional products industry, with a network of over 25,000 distributors and suppliers throughout North America.