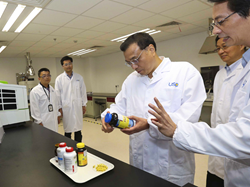 USP has a long history of working with partners and stakeholders in China, including more than 20 years of close interaction with the Chinese Pharmacopoeial Commission and other agencies.
Rockville, Maryland (PRWEB) September 19, 2014
Chinese Premier Li Keqiang visited USP-China's facility located at the China (Shanghai) Pilot Free Trade Zone (FTZ) in Shanghai, China. The Party Secretary of Shanghai, Han Zheng, and several cabinet ministers accompanied the Premier on his visit. During the visit, scientists demonstrated research and development (R&D) and testing capabilities related to USP's quality standards for medicines, herbal medicines/dietary supplements and foods.
The visit by Premier Li to USP-China was part of the celebrations for the one year anniversary of the FTZ's establishment. USP first established its China laboratory in 2007 and significantly expanded its R&D and laboratory operations at its new site this past January.
"We are honored to welcome Premier Li's visit to our China headquarters. USP has a long history of working with partners and stakeholders in China, including more than 20 years of close interaction with the Chinese Pharmacopoeial Commission (ChP) and other agencies. Identifying with the government's enhanced efforts to assure the quality of food and medicines, including traditional herbal medicines, USP-China is working to further develop public standards and continuing to collaboratively explore new scientific and technological advances," said USP Chief Executive Officer Ronald T. Piervincenzi, Ph.D., expressing appreciation for the Premier's visit.
Premier Li toured USP-China's state-of art laboratories and viewed firsthand several demonstrations showcasing key USP activities, including: a joint effort between ChP and USP involving standards for traditional Chinese herbal medicine; the detection of heavy metals in medicines and the development of a standard for taurine, a common ingredient in many popular energy drinks.
"New policies in the FTZ have improved operational efficiency for companies like USP, including simplified custom processes which allow us to better serve pharmaceutical and food ingredient manufacturers," said Dr. John Hu, senior vice president and general manager of USP-China.
USP-China is strategically located near many key pharmaceutical businesses in Shanghai and well-placed to work throughout China, which has become a significant part of global pharma and food ingredient manufacturing. This allows USP to connect and communicate with Chinese-based manufacturers and regulators, expand training and technical outreach, work jointly on standards, translate USP's publications into Chinese, promote the value of visiting scientist programs and other cooperative efforts.
Piervincenzi noted that USP's presence in Shanghai is a continuation of a relationship that stretches back nearly a century, with the first translation of USP standards into Chinese in 1923. The USP site in Shanghai features 95,000 square feet of space for laboratory facilities designed to address today's challenges related to product quality and to evolve and grow as new issues emerge. In addition to Shanghai, USP operates laboratories in São Paulo, Brazil; Hyderabad, India; and at USP's headquarters in Rockville, Md. (USA).
For more information, contact http://mediarelation(at)usp(dot)org.
###
USP – Global Expertise, Trusted Standards, Improved Health
The U.S. Pharmacopeial Convention (USP) is a global health organization that improves lives through public standards and related programs that help ensure the quality, safety, and benefit of medicines and foods. USP's standards are used worldwide. For more information about USP visit http://www.usp.org.