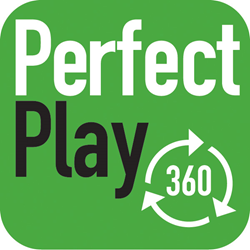 "One of the best new recruiting tools is Perfect Play 360."
Kalamazoo, MI (PRWEB) September 19, 2014
Access Mobility 24 announced the launch of their newest app, Perfect Play 360 (PP360), designed for student athletes to market themselves to college coaches. PP360 provides a cloud-based application where athletes can upload video, pictures, and documents (i.e. transcript, athletic assessments, rosters, tournament schedules, articles, letters of recommendation, community involvement, etc.), and send it all directly to college coaches of their own choosing.
Perfect Play 360 (http://www.PerfectPlay360.com) was created by CEO Joe Wright, when he needed to find a way to catalog and market his own son's high school baseball career as a potential recruit. "For many years, expensive recruiting services had been the only game in town," said Wright. "Athletes who did not go through a recruiting service had to send coaches their highlight video and other pertinent documents piece meal. Perfect Play 360 provides a comprehensive and very affordable option for student athletes who want to play at the next level without breaking their parents' banks."
"Most high school athletes are not the top tier recruits, but many are good enough to play at the next level. Those potential recruits need to be more proactive to get noticed," said Former Division I Golf Coach Garry Winger. "If you contact the coach personally, you have a much greater chance of getting a response, whether that response is positive or negative. One of the best new recruiting tools is app Perfect Play 360. This app allows you to manage your athletic resume and send it to the college of your choice. It's a very inexpensive and personal way to get noticed while controlling where and to whom your athletic profile goes."
College coaches not only want to see the potential recruits' athletic skills, but also information and visuals that will give them an idea of the athlete's character. PP360 gives the potential recruit complete control of his or her athletic profile. With PP360, college coaches can take a better look at a student athlete within one simple link, sent to them directly by the subscriber. Coaches can give feedback to senders within the app, as well. Once that PP360 link is sent to the coach, he or she can click on it anytime and view the athlete's most updated profile.
Tricia Betthauser, former Division I basketball coach and recruiting coordinator, and the Athletic Director at Adlai E. Stevenson High School in Lincolnshire, IL, said, "For many families of student-athletes, there is a great deal of mystery around athletic recruiting. From personal coaching experience, I had the confidence that if a young lady had the talent and drive to play basketball at the Division I level, I would find her. She wouldn't need to promote herself. Now, in my sixth year as Athletic Director for the Patriots, I know this is simply not the case for all sports and all situations. Recently, I previewed Perfect Play 360, a product that I feel has great potential for families to use in reaching out to college coaching staffs. Perfect Play 360 is an affordable marketing app that assists families in creating a comprehensive package that can be sent out to any college or university."
Access Mobility 24 is marketing the Perfect Play 360 school program to high school athletic departments and club teams, as well as individual athletes. Perfect Play 360 is an affordable and comprehensive recruiting tool that puts the power back in the hands of the student athlete and their parents.
For more information, please visit http://www.perfectplay360.com/.
Contact: Terese Cooke Bottner at terese(at)perfectplay360(dot)com or call (224) 595-0706.