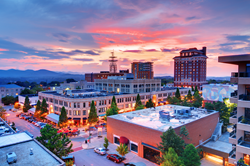 Top Art Destinations in the Southeast
Asheville, North Carolina (PRWEB) September 18, 2014
Mark the calendar and save the date! On October 3, 2014 is the next First Friday Art Walk in one of the best mountain towns in North Carolina. Participants can explore 25 downtown galleries, studios and museums – all located with a half-mile radius. The gallery walks are a great way to explore downtown Asheville. Packed into a small area, folks will find unparalleled diversity – from fine studio crafts, to glass, photography, folk art and contemporary painting, textiles, jewelry and more by local, regional, national and international artists.
The city is one of the top arts destinations in the southeast, featuring hundreds of art galleries and working art studios. Downtown, visitors can stop by 30-plus galleries, or embark on one of the many Art Walks sponsored by the Downtown Asheville Art District (DAAD) throughout the year.
The following is a list of member galleries that make up the Downtown Asheville Art District:
American Folk Art & Framing 64 Biltmore Ave. • 828-281-2134
ArtEtude Gallery 89 Patton Ave • 828-252-1466
Ariel Gallery 19 Biltmore Ave. • 828-236-2660
Asheville Art Museum 2 Pack Square • 828-253-3227
Asheville Gallery of Art 16 College St. • 828-251-5796
Bender Gallery 12 S Lexington Ave. • 828-505-8341
Black Mountain College Museum 56 Broadway • 828-350-8484
Blue Spiral 1 38 Biltmore Ave. • 828-251-0202
Castell Photography 2-C Wilson Alley • 828-255-1188
The Center for Craft, Creativity & Design 67 Broadway Street • 828-785-1357
Gallery Minerva 8 Biltmore Ave. • 828-699-2787
The Haen Gallery 52 Biltmore Ave. • 828-254-8577
Jewels That Dance 63 Haywood Street Alley. • 828-254-5088
Mountain Made 1 Page Ave., Suite 123 • 828-236-2889
Susan Marie Design 4 Biltmore Ave. • 828-277-1272
Van Dyke Jewelry and Fine Craft 29 Biltmore Ave. • 828-281-4044
Woolworth Walk 25 Haywood St. • 828-254-9234
ZaPow 21 Battery Park Ave. • 828-575-2024
Zest Gallery 16 Patton Ave. • 828-254-2630
Just minutes away from Asheville neighborhoods, the River Arts District is home to an eclectic mix of contemporary and traditional artists. There is art everywhere you look – and you have many opportunities to see it. Many studios are open every day, all year round. Visitors are encouraged to come explore artist studios and watch while they work, or meet the artists and discuss the creative process.
It's never too late to appreciate art – or to become an artist. Maya Angelou was in her 60s when her poetry and books became popular. And legendary Alfred Hitchcock directed his best films between the ages of 54 and 61. Theodor Seuss Geisel, better known as Dr. Seuss, began successfully writing children's books in his late 40's.
These days, baby boomers are huge supporters of various forms of art. Retirees enjoying the retirement lifestyle have plenty of time to enjoy browsing through art galleries either in places they visit, the River Arts District or at their own backyard. The surrounding Asheville neighborhoods can also be described as works of art. Biltmore Lake is no exception. It's located in the heart of Asheville and spread across 1,300 acres featuring a mix of architectural mountain home styles overlooking the lake. The Biltmore Lake hiking trail system has 4.2 miles of walking and biking trails that weave throughout this Western North Carolina lake community leading to parks, fishing piers and viewing areas. A fishing dock and kayak/canoe boathouse is lakeside at the Biltmore Lake Clubhouse. The lake is stocked with bass for a day of catch and release fishing.
Southcliff is a gated Asheville neighborhood with long range layered mountain views. Six miles of groomed hiking trails lead to their beautiful community parks and well-designed outdoor living rooms. Southcliff is 400 acres in size and has almost 50% of the community's acreage preserved as protected green space. It's amenities include a rustic tree house, children's playgrounds, scenic overlooks, open-air pavilions and fire pits.
Lush woodlands and fresh mountain air greet residents upon their arrival to the The Ramble at Biltmore Forest. It's nestled in the fertile woodlands of Ducker Mountain and borders America's Favorite Scenic Drive, the Blue Ridge Parkway. Developed across 1,000 acres of curated forest, this Asheville neighborhood boasts some of the largest luxury home estates in the area. Longmeadow Park is the community's largest park and is the setting of outdoor social events and concerts on the lawn. The stunning outdoor amphitheater and living room includes English formal gardens, open-air pavilion with restrooms, children's playground, basketball court, multi-purpose field with soccer goals, and a hand-hewn stone fire pit.
Nature lovers may also be drawn to Reynolds Mountain. This gated mountain community located on the north side of Asheville offers luxury living while enjoying spectacular views of Asheville, the Grove Park Inn, the golf course of Country Club of Asheville, the sparkling waters of Beaver Lake and heart-stopping sunsets over downtown.
Asheville, North Carolina is an ideal place to live for families, retirees and most especially art lovers to admire beauty. Its small town friendliness and rich cultural happenings at the River Arts District provide the best of all worlds in one of the best mountain art towns in Western North Carolina.
About Real Estate Scorecard:
Real Estate Scorecard writes unbiased real estate reviews providing in-depth information about popular gated communities in Florida, Georgia, North Carolina, South Carolina, and Tennessee, all in an effort to help people discover where to retire in the Southeast.
Website: http://realestatescorecard.com