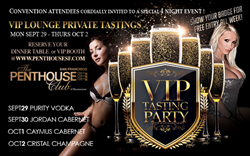 San Francisco, CA (PRWEB) October 13, 2014
The Penthouse Club and Restaurant San Francisco is hosting a very special tasting event for Oracle Convention attendees. From Monday, Sept. 29 through Thursday, Oct. 2, there will be private tastings to enjoy every night in the VIP Lounge.
"This is a great opportunity for wine and champagne enthusiasts to enjoy something truly special," said Axel Sang, director of marketing for BSC Management. "Convention attendees are welcome to join us all week long, we can't wait to host this especially for them"
The tasting event starts at 7 p.m. and ends at 10 p.m. every night. Convention attendees who show their convention badge at the door will receive complimentary entry all week.
The Penthouse Club will be offering some high-quality tastings in the VIP lounge. This is perfect chance to try some fantastic top-shelf spirits and wines. On Sept. 29, guests can taste Purity Vodka and Jordan Cabernet on Sept. 30, Caymus Cabernet on Oct. 1, and Cristal Champagne on Oct. 2.
This is a very exciting event for convention attendees and San Franciscans alike. The club is sure to be booked quickly, so guests are encouraged to reserve a dinner table or a VIP booth. Reservations can be made on the Penthouse Club and Restaurant website.
This four-night event is sure to be a great time for all who attend. Be sure to stop by The Penthouse Club & Restaurant San Francisco all week long for exciting adult entertainment, luxury dining in an intimate atmosphere.
About Us:
The Penthouse Club and Restaurant offers the best in adult entertainment in San Francisco. With multiple stages, two full bars and the most beautiful dancers in the Bay Area, customers are sure to enjoy the entertainment at this gentleman's club. Besides the exciting dancers and entertainment, The Penthouse Club San Francisco also features a superb luxury dining experience in a unique atmosphere. The Penthouse Club San Francisco always covers all their bases with the best in entertainment, dancing and food. Open seven days a week, the adult club is ready to amaze all their guests with all they have to offer.