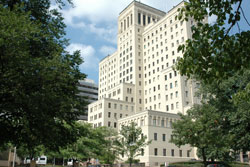 We're pleased to provide data that can assist the medical community in developing good evidence-based treatment protocols.
Pittsburgh, PA (PRWEB) September 18, 2014
Research conducted by a team of neurosurgeons and radiation oncologists from Allegheny Health Network has documented improved survival in patients with cancerous brain tumors who undergo both surgical removal of the tumors along with stereotactic radiosurgery.
The study was presented at the annual meeting of ASTRO (American Society for Radiation Oncology) this week in San Francisco.
Stereotactic radiosurgery (SRS) uses numerous precisely focused radiation beams to treat tumors in the brain, delivering high doses of radiation to the target area with minimal exposure to surrounding healthy tissue.
The team found that patients who underwent complete surgical excision plus SRS were more than twice as likely to survive as compared to patients who underwent SRS alone. In addition, the patients who had surgical excision plus SRS had a three-fold increase in time to local progression of disease as compared to those who underwent SRS alone.
"There are limited data on the benefits of surgical tumor excision plus stereotactic radiosurgery in comparison to SRS alone for patients with oligometastatic brain disease," said Matthew Quigley, MD, director of the Division of Neuro-oncology at Allegheny Health Network's Allegheny General Hospital (AGH) and principal investigator of the study.
"We're pleased to provide data that can assist the medical community in developing good evidence-based treatment protocols."
The study retrospectively examined 162 consecutive patients with metastatic brain disease who did not undergo whole brain radiation therapy. Results of the study also indicated that patients who had incomplete surgical excision plus SRS fared no better than those who had SRS alone.
AGH neurosurgical resident Diana Jho, MD; radiation oncologists Russell Fuhrer, MD and Stephen Karlovits, MD; ENT surgeon Farrel J. Buchinsky, MD; and research assistant Nicholas Bello participated in the study along with Dr. Quigley.
"Stereotactic radiosurgery is improving outcomes for all cancer types and this study shows the importance and value of our leading expertise and multidisciplinary approach in using this advanced treatment for our patients," said David Parda, MD, Chair, Allegheny Health Network Cancer Institute.
ASTRO's Annual Meeting is the premier radiation oncology scientific event in the world and draws more than 11,000 attendees each year. The 2014 Annual Meeting will highlight science that showcases how technology and biology advance the field and improve patient outcomes and quality of life.
About Allegheny Health Network
Allegheny Health Network is a western Pennsylvania-based integrated healthcare system that serves patients from across a five state region that includes Pennsylvania, Ohio, West Virginia, Maryland and New York. The Network's Cancer Institute offers a complete spectrum of oncology care, including access to state-of-the-art technologies and new therapies being explored in clinical cancer trials.
The Network's radiation oncology program is the largest in the country accredited by both the American Society for Radiation Oncology and the American College of Radiology and the first and only one in Pittsburgh to receive both accreditations.
Allegheny Health Network's Cancer Institute collaborates with the Sidney Kimmel Comprehensive Cancer Center at Johns Hopkins, one of the nation's 41 comprehensive cancer centers designated by the National Cancer Institute, for research, medical education and clinical services.