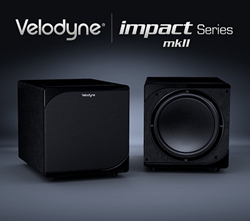 MORGAN HILL, Calif. (PRWEB) September 18, 2014
In the wake of a highly successful return to CEDIA Expo, high-end audio pioneer and technology innovator Velodyne Acoustics today set the stage for an expanded, revamped lineup at 2015 International CES, in Las Vegas next January.
CEDIA Expo 2014, the Custom Electronic Design & Installation Association conference held through Sept. 13 at the Colorado Convention Center in Denver, provided Velodyne with an opportunity to showcase a renewed emphasis on its subwoofer products.
Velodyne promoted its expanded national distribution through The PowerHouse Alliance, a consortium of regional wholesale distributors that provides audio/visual installers and retailers in all 50 states with convenient access to the company's full line of high-performance, low distortion subwoofers. At CEDIA, Velodyne also announced an exclusive agreement with Kevro International, which makes Velodyne's full line subwoofers available to audio/visual installers and retailers across Canada. "Canadian distributors and dealers expressed excitement about having product available locally and Velodyne represented by such a highly regarded company," said Rob Morse, Velodyne Director of Business Development and Support Services.
Tipping its hand just a bit, Velodyne offered a sneak peek at a handful of products in development, including some that are expected to make an appearance at 2015 International CES early next year. The company disclosed that the Impact mkII will be completely revamped, including new amp, driver and design. Also slated for a possible appearance at CES2015, Velodyne discussed a replacement for the Optimum /SPL Ultra, with 8-inch, 10-inch, and 12-inch variants in development. Additionally Velodyne hinted at several designs in various stages of development, all of which are aimed at attracting the custom install market.
Velodyne continued to promote the Wi-Q ($799-$899) launched at last January's CES. http://www.ravepubs.com/rave-video/cedia-2014-velodyne-acoustics-showcases-its-wi-q-subwoofer-including-wireless-transmitter/. According to Morse, custom installers especially liked the fact that the wireless transmitters were included in the box -- unlike many other "wireless-ready" subwoofers that require the purchase of additional components. Velodyne also touted the Wi-Connect system ($150), which allows for virtually any subwoofer to be connected wirelessly.
The company recently added three new international distributors, in Chile, Croatia, and the UAE. Velodyne subwoofers are currently are distributed in more than 50 countries worldwide.
A Tradition of Innovation
In 1983, David Hall, Velodyne's founder and chief engineer, revolutionized subwoofer design with the ULD-18, which incorporated a patented, accelerometer-based High Gain Servo System to control the woofer cone movement. The massive speaker system went lower, played louder and produced distortion levels 20 to 30 times less than anything else on the market.
Hall and Velodyne have introduced other innovations, including the Dual Tandem Voice Coil, Energy Recovery Amplifier, Digital High Gain Servo-Control and the Digital Drive Room Bass Equalization System. In 2003, Velodyne introduced the world's first digitally tuned subwoofers with DSP technology.
Today, Velodyne subwoofers contain the industry's most flexible and complete feature packages, enabling perfect integration with virtually any system. High-quality crossover networks in all Velodyne subwoofers can actually double a receiver's usable power and even lower the main speakers' distortion levels when using the "Subwoofer Direct" feature with the LFE output. Crossover parameters are meticulously engineered to guarantee a perfect blend with any system, regardless of speaker size.
Custom installers appreciate that Velodyne subwoofers deliver superior sound in every type of system. In addition to introducing the first remote controlled subwoofers, Velodyne has engineered sophisticated and easy-to-use digital room bass EQ systems; easy to build in-wall, in-cabinet, in-floor and in-room subwoofers; and one-button-to-perfect bass automatic equalizations for music, theater and games. To ensure maximum output and minimum distortion, unique "anti-clipping" circuits in Velodyne subwoofers automatically monitor the amplifier, allowing the subwoofer to tap its full power capacity without distortion. Exclusive "dynamic-compression" and over-excursion circuits are also integrated into Velodyne subwoofers to protect from overload and provide extraordinary reliability and durability.
About Velodyne Acoustics
Founded in 1983 and based in California's Silicon Valley, Velodyne Acoustics, Inc. is a diversified technology company known worldwide for its high-performance audio equipment and real-time LiDAR sensors. The company is widely recognized as the leading manufacturer of high-performance, low-distortion, powered subwoofers and an expanding line of technically innovative in-ear and over-ear audio products, which include interchangeable, custom-designed skins that enable audiophiles to personalize the look of their headphones. Velodyne products are available online at http://www.velodyne.com and from a select group of authorized dealers, custom installers and distributors worldwide. Since 2007, Velodyne's LiDAR division has emerged as a leading developer, manufacturer and supplier of real-time LiDAR sensor technology used in a variety of commercial applications including autonomous vehicles, vehicle safety systems, 3D mobile mapping, 3D aerial mapping and security. For more information, visit http://www.velodynelidar.com. For the latest information on new products and to receive Velodyne's newsletter, register here.