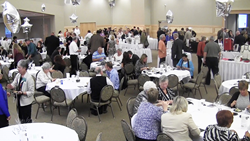 AKRON (PRWEB) September 18, 2014
Mature Services held its 10th annual "The Melting Pot ~ A Taste of Many Nations" on September 11th at the St. George Family Center in Fairlawn, OH. The celebration proved successful in raising funds to help Mature Services provide high–quality programs to empower the economic, social, physical and mental well-being of adults as they age.
Ethnic food from 13 local restaurants, music from the "Just Friends" quartet and over 140 auction items up for bid made the evening a night to remember for all attendees. With over 200 people attending and over $31,000.00 raised, the night also was one to remember for Mature Services, as they garnered funding to continue and improve their diverse programs designed to help older adults improve their lives.
Chefs were engaged in a friendly competition for the culinary awards of the evening. Winners were selected by honorary culinary judges included two real-life judges, Summit County Juvenile Court Judge Linda Teodosio and her husband, Summit County Common Pleas Court Judge Tom Teodosio and Dr. Harvey Sterns, Director of the Institute for Life-Span Development and Gerontology at the University of Akron. Aladdin's Eatery was the winner for the "Best Presentation" award, TLC Catering for the "Most Original" award, with the North End of Hudson winning both the "Best Tasting" and People's Choice" awards.
Allan Fee of Q104 was the emcee, and honorary committee chair for the planning committee, Madeline Bozzelli and her husband Libert promoted and sold tickets for the live raffle at the event.
"On behalf of the entire staff and board of directors of Mature Services and our clients, we would like to extend thanks to the sponsors, participating chefs, judges and volunteers of this event," said Linda Valentine, President/CEO of Mature Services, Inc. "This event wouldn't be possible without their support."
If you would like to find out more about Mature Services, or have any questions about the various programs they offer for older adults please visit the website, http://www.matureservices.org or call 330-253-4597. Mature Services, Inc. is an Equal Opportunity Employer and service provider.
###