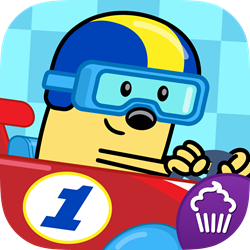 New York, NY (PRWEB) September 18, 2014
Cupcake Digital, Inc. announced the release of Wubbzy's Racecar, an engaging new enhanced storybook app featuring the beloved character Wubbzy from the Emmy® award-winning Nick Jr. TV series Wow! Wow! Wubbzy!®. Fans of the series will love the interactive story, complete with a racecar game with various levels of play and playful coloring pages. This new app is available today on the App Store, Amazon Appstore for Android, Google Play and for NOOK and Nabi devices for $2.99.
Cupcake Digital has produced several top-rated apps featuring Wubbzy's adventures in Wuzzleburg, including the award-winning Wubbzy's Dance Party, Wubbzy's Magic School, Wubbzy Fire Engine and Wubbzy's Space Adventure. These apps can be purchased individually or as a value-priced bundle on the App Store.
###
NOTE TO MEDIA: Screen grabs, video clips, and promotion codes available upon request.
About Cupcake Digital
Founded in 2012, Cupcake Digital, Inc. gives kids the opportunity to interact with the characters they love by transforming children's entertainment properties into award-winning apps. The Company's apps are consistently top-ranked on the Apple App Store, Amazon Appstore for Android, Google Play and the Barnes & Noble NOOK Store. Cupcake's licensed IP portfolio includes Yo Gabba Gabba!, Strawberry Shortcake, The Smurfs, Sid the Science Kid, How To Train Your Dragon, Madagascar, Shrek, Kung Fu Panda, Cloudy with a Chance of Meatballs, Puss In Boots, Wow! Wow! Wubbzy!, Jim Henson's Fraggle Rock, VeggieTales, Animal Planet, Barney and Mike the Knight.
For more information about Cupcake Digital Inc., please visit http://www.cupcakedigital.com.