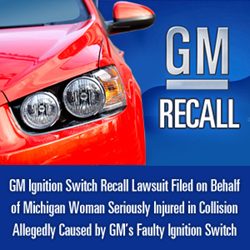 Learn about filing a GM ignition switch recall lawsuit, contact the Oliver Law Group P.C. for your free GM ignition switch recall lawsuit case review by calling toll free 800-939-7878 today or visit www.legalactionnow.com
Detroit Michigan (PRWEB) September 18, 2014
The Oliver Law Group P.C., a law firm representing consumers in GM ignition switch recall lawsuits, notes that General Motors (GM) is attempting to block a civil claim brought in California Superior Court by the Orange County District Attorney's Office. According to court papers filed late last month in Orange County Superior Court, GM asserts that the case belongs in the federal multidistrict litigation underway in U.S. District Court, Southern District of New York, where injury and wrongful death claims involving the company's 2014 faulty ignition switch recall have been consolidated for coordinated pretrial proceedings. The automaker also claims it is shielded from liability by an order that was part of a government-backed 2009 bankruptcy sale.
(Case No. 30-2014-00731038-CU-BT-CXC California Superior Court of Orange County)
According to court documents, the California lawsuit accuses GM of endangering motorists and the public by intentionally concealing serious safety defects in GM vehicles to avoid the cost of a recall or replacing defective parts. In addition to civil penalties and restitution, the lawsuit seeks injunctive relief requiring GM to "cease unlawful, unfair, deceptive, and fraudulent business practices as it pertains to both consumers and competitors." Orange County contends that state court is the appropriate venue for the claim, as the case seeks both injunctive relief and financial damages, making it different from those in the federal proceeding.
GM Ignition Switch Recall
In February, GM recalled more than 2.6 million small cars that were built with an ignition switch that can unexpectedly and suddenly move from the "On" or "Run" position to the "Off" or "Acc" position. When this occurs, the motor engine and certain electrical components, including the power assisted steering and anti-lock brakes are turned off, thereby endangering the vehicle occupants and compromising the safety airbag system. Vehicles involved in the GM ignition switch recall include:
2005-2010 Chevrolet Cobalt
2005-2007 Pontiac G5
2003-2007 Saturn Ion
2006-2011 Chevrolet HHR
2006-2010 Pontiac Solstice
2007-2010 Saturn Sky
(safercar.gov/Vehicle+Owners/Consumer+Alert:+GM+Ignition+Switch+Recall+Information, NHTSA, February 2014)
According to the Washington Post, at least 13 auto fatalities have been linked to the defective ignition switch. A congressional probe also determined that GM knew of the problem in 2006, yet failed to announce any recall at that time to fix switches in cars that were already on the road.
(washingtonpost.com/business/economy/gm-fined-35-million-in-ignition-switch-safety-case/2014/05/16/f1b92e56-dd08-11e3-8009-71de85b9c527_story.html, Washington Post, May 16, 2014)
Since the recalls were announced, court records indicate that more than 100 GM ignition switch lawsuits have been filed in the federal litigation underway in the Southern District of New York.
(In re General Motors LLC Ignition Switch Litigation, MDL 2543)
In June, GM announced that it would establish a Victims Compensation Fund in order to compensate the families of those killed, as well as individuals who were severely injured, in automobile crashes associated with a defective ignition switch. The Fund opened to claims on August 1, 2014. The deadline for filing a claim is December 31, 2014.
(hosted.ap.org/dynamic/stories/U/US_GENERAL_MOTORS_COMPENSATION_GLANCE?SITE=AP&SECTION=HOME&TEMPLATE=DEFAULT, Associated Press, June 30, 2014)
The Oliver Law Group is offering free legal reviews to individuals who were injured, as well as the families of those killed, in automobile accidents allegedly related to GM's ignition switch recall. To learn more about filing a GM ignition switch lawsuit, please contact our office by calling 800-939-7878 today.
About The Oliver Law Group P.C.
Oliver Law Group P.C. is a different kind of law firm. One that focuses on the needs of the injured first. A compassionate law firm dedicated to fighting for the rights of victims and their families, and doing everything necessary to ensure those rights.
The experience of a large firm. The 1-on-1 dedication of a small firm. A reputation built on trust.
Experience. Dedication. Trust. Oliver Law Group P.C.
If you would like to learn more about filing a GM ignition switch recall lawsuit, turn to the law firm with the Experience, Dedication, and Trust you deserve. Contact the Oliver Law Group P.C. for your free GM ignition switch recall lawsuit case review by calling toll free 800-939-7878 today.