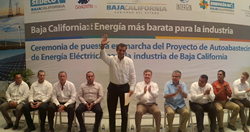 Baja California is now the State with lowest electricity for industrial users in Mexico. Jesus Alfredo Babun , Under-Secretary of Economic Development of Baja California
Tijuana, Mexico (PRWEB) September 18, 2014
Baja California Governor, Francisco Vega, recently announced a program to supply low-cost energy to local industry. The public announcement was made during an official event attended by the Tijuana EDC, government officials, and private sector representatives.
The first phase will supply low-cost energy to 16 companies starting this fall. Vega says this new program makes Baja California a pioneer in offering the benefits of the newly instituted Mexican Energy Reform Law to industry.
The program combines private investment from Intergen and public support from Mexico's Federal Energy Commission (CFE). Intergen, a multinational company, will reduce electricity fees by 45 to 50% during peak hours, according to the company`s Mexican enterprise, Energìa Azteca X SA de CV. CFE will allow use of its electricity network infrastructure by Intergen in order to provide the service directly to end users. Previously, private companies were not allowed to sell directly to energy consumers.
The Federal Energy Commission and Intergen signed a contract 14 years ago to privately produce energy at La Rosita Plant -- a 1065 megawatt combined- cycle natural gas-fired power plant located near Mexicali, just 10 kilometers south of the USA-Mexico border. This plant produces 900 megawatts from which 600 are currently sold to CFE for local consumption and 220 are exported into the United States.
Today, only weeks after Mexico's president signed the landmark Energy Reform Law, Baja California is ready to supply energy through this private company using CFE's infrastructure, with an initial capacity of 80 megawatts. This privately sold energy represents a potential saving of $19,000 per megawatt of consumption.
In the first phase of implementation, 16 companies in Tijuana and Mexicali will receive the benefits of this lower-cost energy through Energía Azteca, Intergen's Mexican enterprise. These companies are Hyundai de Mexico, Molinera del Valle, Pulidora de Baja California, Fevisa Industrial, Dataproducts Imaging Solutions, Furukawa Mexicana, Fabrica de Papel San Francisco, Pure and Clear de México, Hielo Cachanilla, SIMEC International, Agrìcola Las Montañas, Jonathan MFG, Hielo Estrella del Valle, Membranas Plasticas Internacionales, Placas thermodinàmicas, Industrias Zahori as well as the aqueduct Rio Colorado-Tijuana.
During the recent announcement by the governor, Cristina Hermosillo, president of the Tijuana EDC commented, "This new program will significantly strengthen Tijuana's competitiveness package as we seek to recruit more multinational businesses to the area. It will definitely boost the city's cost advantage over other global destinations that offer advanced manufacturing expertise."
"Baja California is more than ready to start powering up its industrial facilities with privately generated electricity thanks to the openness shown by Mr. Ochoa, CEO of the Federal Energy Commission," Hermosillo added. "Due to recent changes in our national energy laws, La Rosita in Mexicali, a privately owned thermoelectric power plant, will start delivering 80 megawatts this fall."
This achievement joins a long list of recent initiatives that will boost energy production in Baja California, including renewable energy projects such as Energía Sierra Juarez, a wind-power generation project with a total capacity of 1,200 megawatts to be built in the Sierra de Juarez mountains. With a $300 million investment in U.S. dollars, Phase I of the Sierra Juarez project is currently under construction and will have a capacity of 155 megawatts through 47 turbines of 3.3 megawatts each. The first phase is expected to be operational during the first half of 2015.