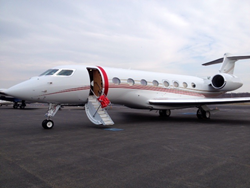 Asia has increasingly become an important base of operations for our growing business. Avjet continues to have a strong presence in Asia and with the introduction of this G650 into Japan on charter we intend to increase our global coverage
Burbank (PRWEB) September 23, 2014
Avjet Corporation, the world's premiere charter operator of Gulfstream large cabin VIP aircraft, recently added its second G650 for charter. This Gulfstream G650, based in Nagoya, Japan, will be one of the world's few Part 135 operated aircraft able to provide its clients with worldwide charter.
Avjet Corporation will have one of just a handful of G650's available for charter in Japan. "Asia has increasingly become an important base of operations for our growing business. Avjet continues to have a strong presence in Asia and with the introduction of this G650 into Japan on charter we intend to increase our global coverage," notes Avjet Chairman and CEO, Marc J. Foulkrod. Avjet Corporation was a pioneer nearly 15 years ago when they entered the Asian aviation market years before competitors saw the growing influence in that region of the world. Avjet Corporation is uniquely qualified to navigate the complexities of the fast changing Asian markets due to its long history in the region.
Built with Gulfstream's best-in-class avionics technology, including EVS2—the second generation in enhanced vision suites for pilots—the G650 is technologically advanced as well as luxurious. The G650 is also the largest, fastest (able to cruise at 0.925 Mach), and quietest private jet in its class. It can traverse charter clients across the United States from LA to New York in four hours or fly nonstop from LA to Paris in under nine hours.
Avjet's current Gulfstream charter fleet around the globe consists of over twenty-five modern large cabin aircraft, including the flagship G650 and G550 product lines as well as the G450, GV, G-IVSP and G-IV aircraft.
About Avjet Corporation
Avjet Corporation is headquartered in Los Angeles, with additional locations worldwide. Employing people around the globe, Avjet Corporation is the industry leader in Gulfstream charter luxury travel. Visit us at http://www.avjet.com.