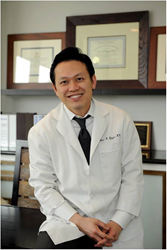 Looking good and feeling good truly go hand-in-hand. When our self-perception of how we feel we should look, contradicts how we actually look, this is often the driving force for seeking out self-improvement solutions
(PRWEB) September 18, 2014
Self-improvement can take place in a number of ways; emotionally, spiritually, physically, financially - your efforts can affect your mind, body and behavior. Self-image is a key factor in a healthy over-all personal evaluation. However, often the image of ourselves we see in the mirror, doesn't depict the version of how we feel we should look.
"Looking good and feeling good truly go hand-in-hand. When our self-perception of how we feel we should look, contradicts how we actually look, this is often the driving force for seeking out self-improvement solutions," attests Dr. Nguyen, esteemed Beverly Hills surgeon.
Often, Dr. Nguyen's patients feel young, spritely and with a lust for life – but to them, their face tells a different story. From face and neck lifts, to eyes, nose and lip procedures; Dr. Nguyen's approach to facial rejuvenation is to work with individuals in a more minimal, targeted and multi-pronged way to avoid the 'plastic' look. The pioneer in 'unplastic' plastic surgery, Dr. Nguyen's approach to dealing with the face, is that results should appear natural and balanced to ensure patients look the best version of themselves.
"Plastic surgery compliments pivotal life events, such as a new job or a new relationship, ensuring that the self-image reflects that of the self-improvement life decision," Dr. Nguyen explains.
Dr. Nguyen describes his unique approach to his most commonly requested self-improvement procedures, below:
Eyes
Our eyes tell an authentic story of how we feel inside. "When the eye area is sagging, or when we are dealing with excess skin in the upper eyelid space, it can create an aged, tired, and angry appearance. An upper blepharoplasty (eyelid surgery) is a minimally invasive procedure that is effective in correcting this condition."
"My technique for upper eyelid surgery is accomplished by making an incision in the upper eyelid's natural crease. This allows for the removal of excess skin and fat, while leaving a virtually undetectable scar." The result leaves patients looking more awake, alert, and refreshed.
Nose
"Rhinoplasty is a cosmetic procedure designed to improve the shape of the nose. When performed by a skilled surgeon with a keen eye for aesthetics, rhinoplasty can help achieve balance and symmetry of one's facial features" explains Dr. Nguyen. However, for patients that want to improve the nose area without indulging in surgery, Dr. Nguyen' pioneering new technique for improving the nose area though his signature Botox facial sculpting technique, Dr. Nguyen conveys that "Botox, while associated with wrinkle removal around the eyes and across the forehead, can actually offer superior results for subtly improving imbalances around the nose area. With a targeted approach and an eye for subtle rejuvenation, the composition of the nose can be changed using Botox artistically." Botox utilized in this capacity is a safe self-improvement solution for altering the shape and appearance of the nose, with little downtime.
Lips
"Voluminous and symmetrical lips have become a hallmark of beauty, which is why lip surgeries are one of the most commonly requested self-improvement procedures", explains Dr. Nguyen. "The mouth changes as a person ages due to gravity and the loss of elasticity in the skin. The upper lip lengthens and sags, the corners of the mouth droop, the curvature of the lips diminish, and the 'cupid's bow' loses definition."
For many women, a permanent solution for full lips is not readily available. However, Dr. Nguyen is one of only a few surgeons in Beverly Hills to offer a long-lasting alternative to repeated filler injections. For a long-term self-improvement solution for fuller lips, Dr. Nguyen's Permalip Lip Implant Procedure is overtaking traditional "lip filler" options. "The Permalip Lip Implant is unique in that it is composed of soft, solid silicone that will not rupture, deflate, or diminish over time. Its tapered edges ensure a natural appearance previously lacking in conventional lip implants. In my expert opinion, Permalip Lip Implant Surgeries are the future in lip improvement procedures", comments Dr. Nguyen.
Face and Neck Lifts
"The pinnacle of all self-improvement surgeries is without a doubt, Face and Neck Lift Surgeries", expresses Dr. Nguyen. "It is the ultimate solution for creating a version of you that you want to portray to the world, vs. the story that gravity and the aging process dictates you should."
The factors of time and gravity result in a loss of facial muscle tone and skin elasticity. The cheeks begin to sag creating jowls and distorting the jaw line. Dr. Nguyen advises that "if you want to put your 'best face forward' and are on a self-improvement journey, then Face and Neck Lift Surgeries could be your gate-way to a naturally resulting, improved looking you."
Dr. Nguyen In The Press:
About Dr. Nguyen:
Dr. Nguyen is dual Board Certified in Facial Plastic Surgery and Otolaryngology-Head and Neck Surgery. He currently practices in Beverly Hills, Malibu and New York where he focuses on the specialty of facial plastic and reconstructive surgery, which includes the following procedures:
Facelift, Neck lift, Rhinoplasty (Nose Augmentation), Eyelid Lift, Brow lift, Minimally-Invasive Laser, Fillers, & Injectables, Lip Augmentation, Cheek Augmentation, Chin Implants, Otoplasty (Ears), Liposuction with Fat Transfer, and Cancer Reconstruction.
Social Media:
Dr. Nguyen can be found on Facebook.
Certifications and Associations:
American Board of Facial Plastic and Reconstructive Surgery
American Board of Otolaryngology-Head and Neck Surgery