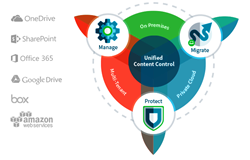 Philadelphia, PA (PRWEB) September 18, 2014
MetaVis Technologies, the market leader in modern content management solutions for Microsoft Office 365 OneDrive and SharePoint, today announced the release of the Office 365 Accelerator Kit for new customers.
In conjunction of Microsoft's Office 365 Fast Track program, MetaVis Technologies is offering the Accelerator Kit to new clients who purchase the Office 365 Suite between September 16th and December 31st. The Accelerator Kit includes the Office 365 Suite, with the addition of the MetaVis' award winning OneDrive Management Suite at no extra cost.
The Accelerator Kit was created to fill the demand of customers who need the same functionality for OneDrive that they have for Office 365. From a central console, users can:

Mass migrate data from files shares, Google Drive, Box and/or SharePoint
Report on who is sharing what with others, both inside and outside the organization
Scan content for information such as PII, PHI, HIPAA or other regulatory sensitive data
Backup content to the Azure or AWS Storage, on-prem storage & restore individual documents
Take actions on drives such as manage permissions or quarantine data
The MetaVis Platform is a completely client side install making it ideal for multi-tenant cloud control. It is also very elastic allowing for the future expansion of additional modules, Office 365 application coverage, and interoperability with other IT Service Management platforms.
"Office 365 customers are rapidly embracing MetaVis' platform to manage their information in the cloud to ensure and administer security, onboard and migrate data from legacy systems and maintain a local backup of cloud only content repositories," said Peter Senescu, President.
MetaVis works around the clock developing new features and solutions to improve productivity and return on your Microsoft investment. Stay tuned, new enhancements are always just around the corner.
For more details on the Office 365 Accelerator Kit, visit MetaVis or contact MetaVis at info(at)metavistech(dot)com, 610.717.0413.
For more information:
Download a free trial of MetaVis Office 365 Suite
Learn more about the Office 365 Accelerator Kit
Visit the MetaVis Blog
Follow MetaVis on LinkedIn and Twitter (@MetaVisTech)
About MetaVis
MetaVis Technologies is a Microsoft Gold certified ISV that develops software that enables information-driven organizations to analyze and manage their content.
The MetaVis platform helps organizations analyze, migrate, backup, administer, and secure their environments. Whether it is Office 365, SharePoint, Azure, Exchange and OneDrive, file/network shares, Google Drive, or another cloud-based content destination, we help take the complexity out of migrating and managing your content. MetaVis products are agentless, easy to use, and provide immediate value to your business.
Whether in the cloud or the data center, helping you analyze, manage, and protect your content is our passion. Let MetaVis help you know your content!