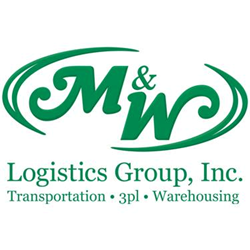 We work hard to make sure our drivers know that they are respected as professional drivers.
Nashville, TN (PRWEB) September 19, 2014
It's Driver Appreciation Week across the transportation industry, and just like many other companies, M&W is thanking its drivers for all of their hard work.
M&W and its drivers are ultimately set apart because of their commitment to safety. M&W was recently awarded a Tennessee Trucking Association award for Fleet Safety and also an American Trucking Association Safe Fleet Award.
Mike McFarlin, M&W's CEO, is very proud of the M&W drivers.
"We work hard to make sure our drivers know that they are respected as professional drivers. This translates into safe driving," said Mike McFarlin. "Safety is job number one for us every day. To have our fleet of 120 plus drivers winning these awards shows their commitment to keeping our roads safe, and we appreciate that very much."
M&W is also very proud to win a Clean Diesel Leadership Award, awarded by the Tennessee Trucking Association. All entries are judged by the Tennessee Department of Environment and Conservation and by the Tennessee Department of Transportation.
M&W continues to focus on safety and the environment with everything that the company does. M&W is very proud of its drivers and their commitment to safety and applaud them for their excellent driving skills while they deliver America.
About M&W Logistics Group
M&W, a 3PL company headquartered in Nashville, TN, with hubs in Memphis and Indianapolis, began in 1973 and remains family-owned and operated with a simple operating philosophy: Listening to its customers and providing the best possible solution to meet their needs in a cost-effective manner, valuing safety and professionalism. M&W takes the time to make sure all employees are equipped to meet the demanding needs of today's supply chain market. More information on the company can be found on its website at http://www.mwlginc.com, and to learn more about the company's amazing drivers and to find out why M&W is an industry leader in retaining drivers go to http://www.drivemw.com.
Media Contact:
Zack Pugh III
Director of Communications and Marketing
The M&W Logistics Group
615-620-1540